This page will document how Karan Bugler restores her ex-Pompier H van then revamps it as Camper Van. This page will hopefully inspire others to do the same.
Karan with her new purchase :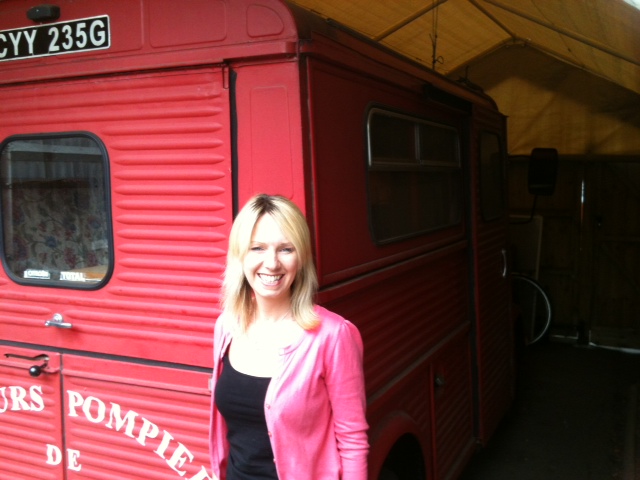 Karan writes:
According to her previous owner; His research showed that our van started life as one of two VTUs (Vehicle Tout Usage) with the French Fire Service, stationed at Falaise in Normandy. It would have been used as a general purpose vehicle carrying specialist fire fighting equipment. After being decommissioned from the French Fire Service it came to England in 1993 and was used by a firm of builders in S.E. London as a 'mobile skip'. It changed hands several times before Clifford took it on in 2003. It was in a terrible state (& painted yellow!) so a programme of rolling restoration began. Over the next 6 years he made it road worthy, made a camper interior and tackled half of the bodywork. During this time it was used regularly for summer holidays. However 3 years ago, following a cracked drum & a trip home on an RAC van, Clifford had to abandon his project. The van has sat there ever since. Now it's time to pass it on to somebody else.
Update so far;
Fri 3rd May - google search for Citroen H vans took me to eBay and an amazing French Fire Truck in need of some TLC. I was looking for a potential catering van as a possible future career option (but really I just wanted an H Van!). Seeing he was already converted to a camper (although in need of a revamp) made me realise that this was the perfect solution! I love the idea of having our own camper & we also could have the option to hire it out in the future. I wanted to buy him unseen as I knew I had to have him (!) but Clifford (her loving owner who had to abandon his project 3 years ago) wouldn't have it - he was worried I didn't know what I was taking on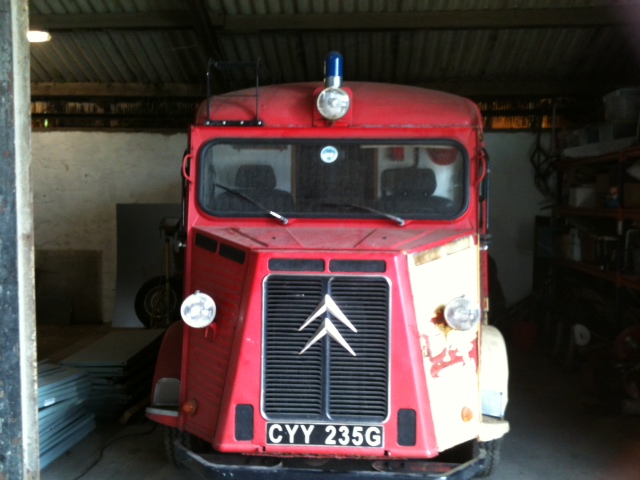 Tuesday 7th May
Trip to Maidstone, exactly as expected & he's ours!!
Wed 8th May - lots of on-line research. I know nothing about restoration, campervans, mechanics, legislation, etc etc. Generally people seem to think I've gone a bit mad but I am so excited! I'll know a lot about all those things by the time I'm finished :-). Bought 'Camper Magazine' and found Dean from Classic Car Revivals. Had a chat on the phone, sent some photos over & his response was 'cool, a French Fire Truck!', he then asked if I was going to keep the theme - of course I am!
Thurs 9th May;
Our lovely van is being towed from
Maidstone to Baldock today! Classic Car Revivals is only 5 mins from where we live. I'm going to visit on Monday to talk about what needs to be done. Dean probably can't start the work until August but at least he'll be there waiting.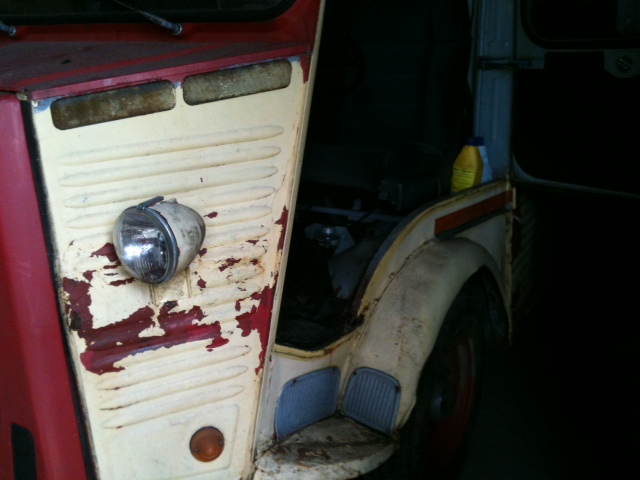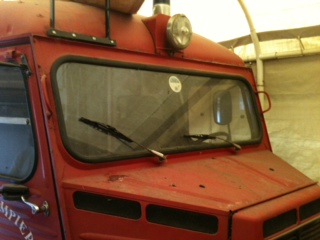 Monday 13th May;
Went to see our Fire Truck today in it's full glory! There's a lot of work to do (but the engine starts first time so that's a good sign!). Spoke to Dean (Classic Car Revivals) about our options and plan of action. Decided between us that we should go for a full restoration job which means stripping him right back to the bare metal and rebuilding. The benefit of this is that it's going to look absolutely brilliant when it's done – the disadvantage is that it costs a lot of money and takes a long time. There is a cheaper option which doesn't involve sand-blasting but I'm worried the end result might not be as good, so we're going for the full Monty. Dean can't start the work until August but I'm still hoping it will be finished by the Spring (fingers crossed).
The top panel on the driver's side (which runs along the length of the van) appears not to be metal! Not sure what it is - ply wood?? As this needs replacing anyway, I'm going to try to source a side hatch, not so we can have a catering van, just so we can open it up when we're camping.
As it seems the budget will be totally blown on the restoration, I am now in search of imaginative ideas to make a really special interior for not much money!! Looking into different suppliers / fitters, trying to work out what we need in terms of electrics etc. Do those tiny fridges really cost over £500?!?
Watched a really good programme on 4OD called 'Amazing Spaces' – an old bus and an old horsebox were both turned into amazing holiday lets on not much money at all.
The insides will be totally stripped out and we'll be left with a shell. If anyone reading this has any ideas for the interior, please let me know! I know it's going to be a few months before I need to worry about the insides but I need to have a plan so we can get straight onto it once Dean's finished his bit.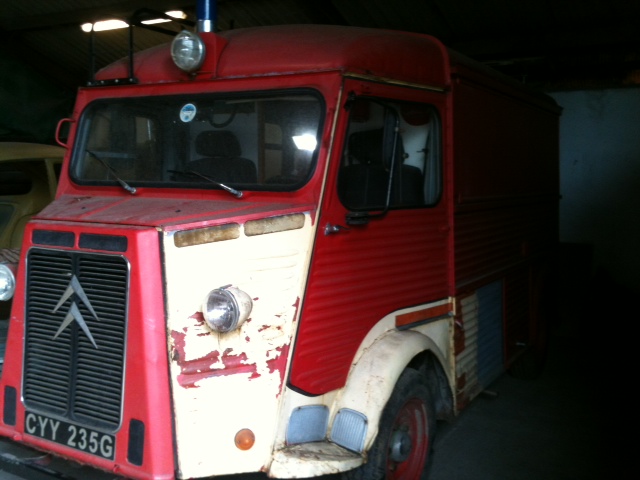 13th June – after a month or so of not seeing my lovely van, I pulled up today to see him with the bonnet up! Work is about to start, way ahead of schedule. Paul Scott from 'Scott Campers' (also based near Baldock, Herts) met me there. We had a really good chat about the van and what we could do with the inside. Paul has some really great ideas – he really seems to understand what I want and the style I like. I know I will have to make compromises along the way due to cost but I'm confident the end result is going to be great.
The back doors are such a nice feature – we really want to optimise those. Looking at having a crash tested rock & roll bed (for 2 passengers) facing backwards behind the front seats (in the middle). The kitchen will be at the back (attached to the back doors so when you open them up the kitchen moves from being inside to being outside i.e. the sink on one door and the hob on the other). Narrow cupboards will run down both sides with the one under the side windows also doubling up as a bench seat. Overhead storage above the front seats & fridge possibly under the bed (?) with a folding table in the middle somewhere. I was worried about the interior looking too modern so Paul has suggested he builds the cupboards out of real wood rather than the vohringer board he normally uses.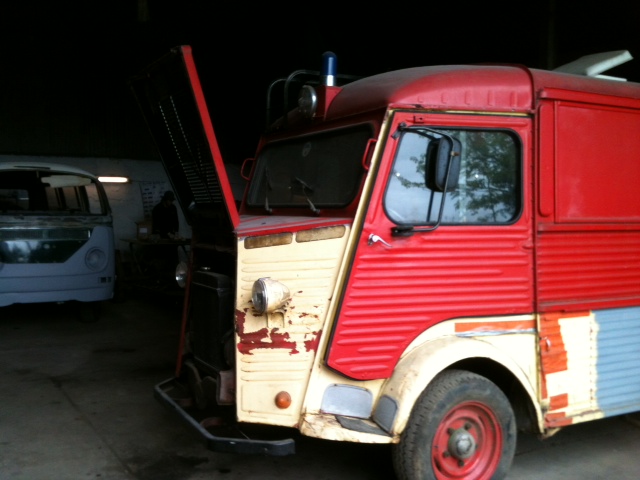 Next challenge is to find a crash tested rock & roll bed that's just the right size!
.
13th June – our van is being stripped 6 weeks ahead of schedule - great news!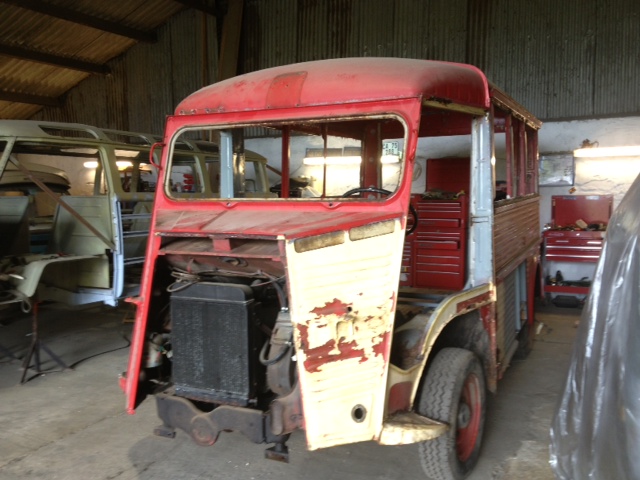 It's quite sad to see him like this in the workshop of Classic Car Revival but exciting too.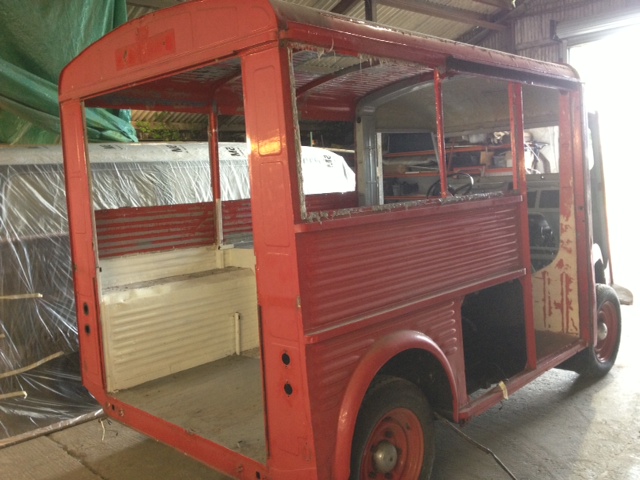 Off to the sand blaster next.
26th June – Our Engine is out!!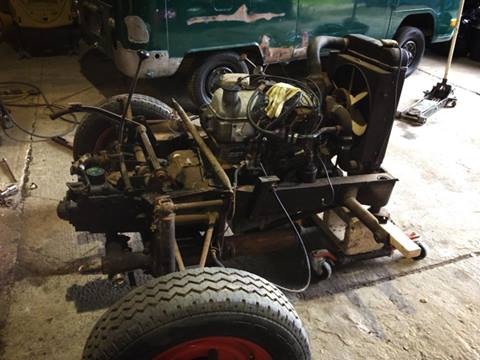 Looking a bit sorry for himself :-(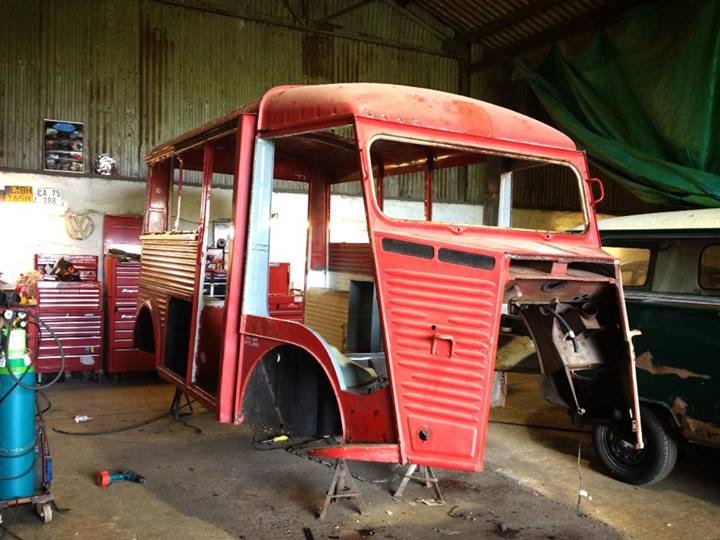 19th July - due back at the workshop on Monday!!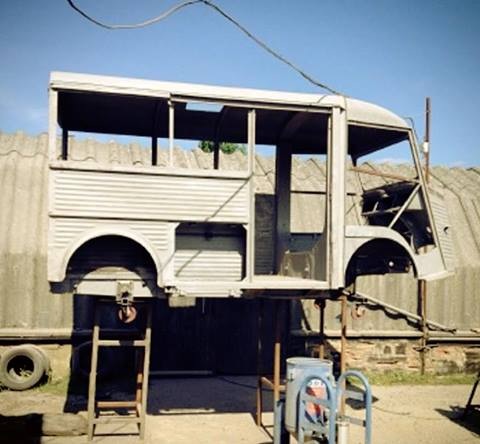 25.07.13 - Fire truck now looks nothing like a fire truck! Back from blasting and primed a fetching army green colour. I feel a bit down hearted after seeing it - there's clearly a lot of work to do.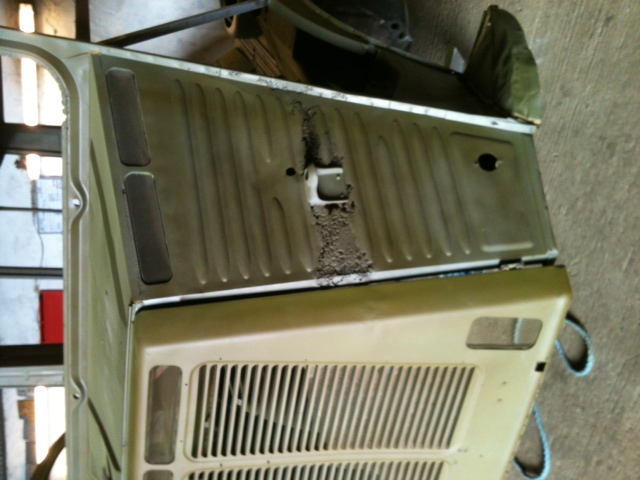 Dean's next job is to list everything that's needed & cost up all the work (gulp!). Then he'll start ordering the panels & other bits that are needed. In some cases we think it may be more cost effective to buy a whole new panel (where we can) rather than patch one up.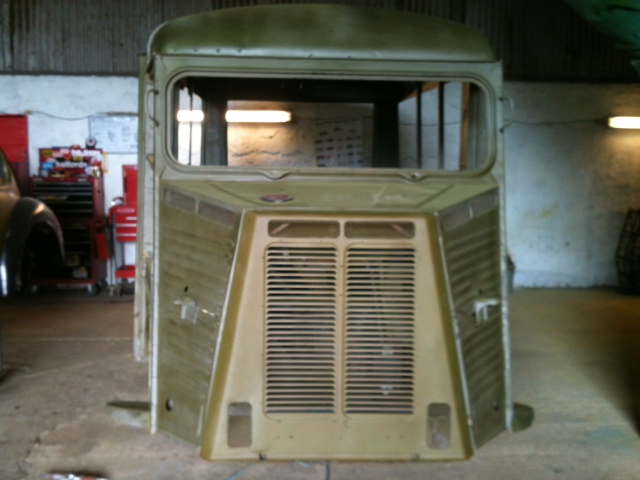 The corrugated panels on both sides are in pretty good nick & the base seems quite solid. However, the roof is a bit dodgy as are the wheel arches. Dean admits it's all a bit worse than he expected!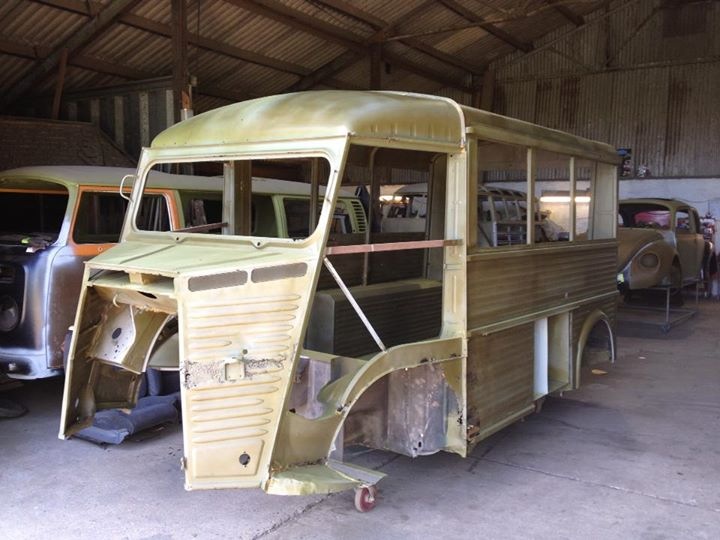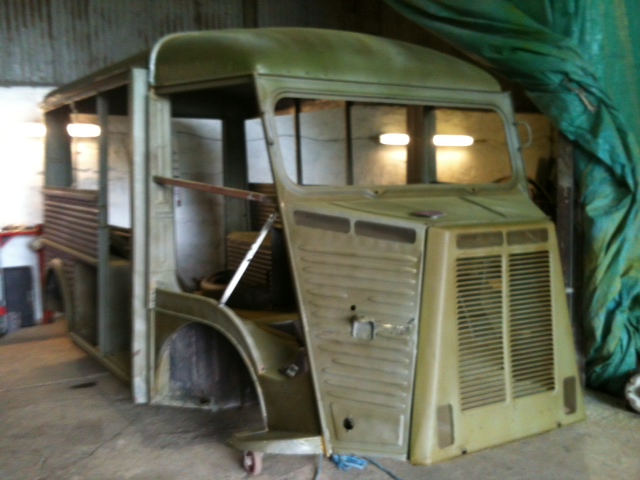 21st September 2013
We have had some shiny new panels fitted and the front end is looking good! Still waiting for the back panels to comeback into stock though.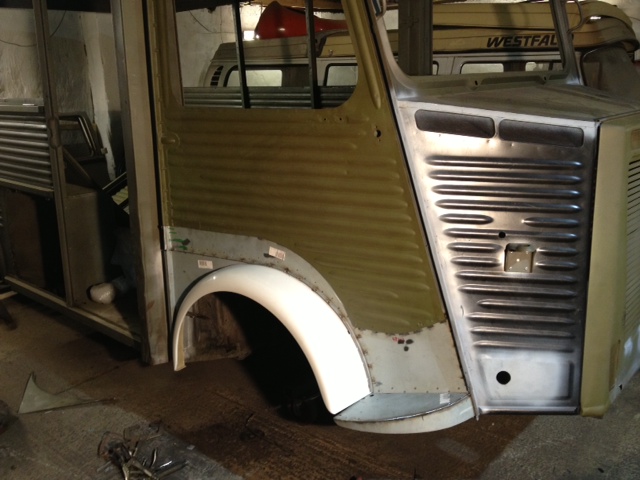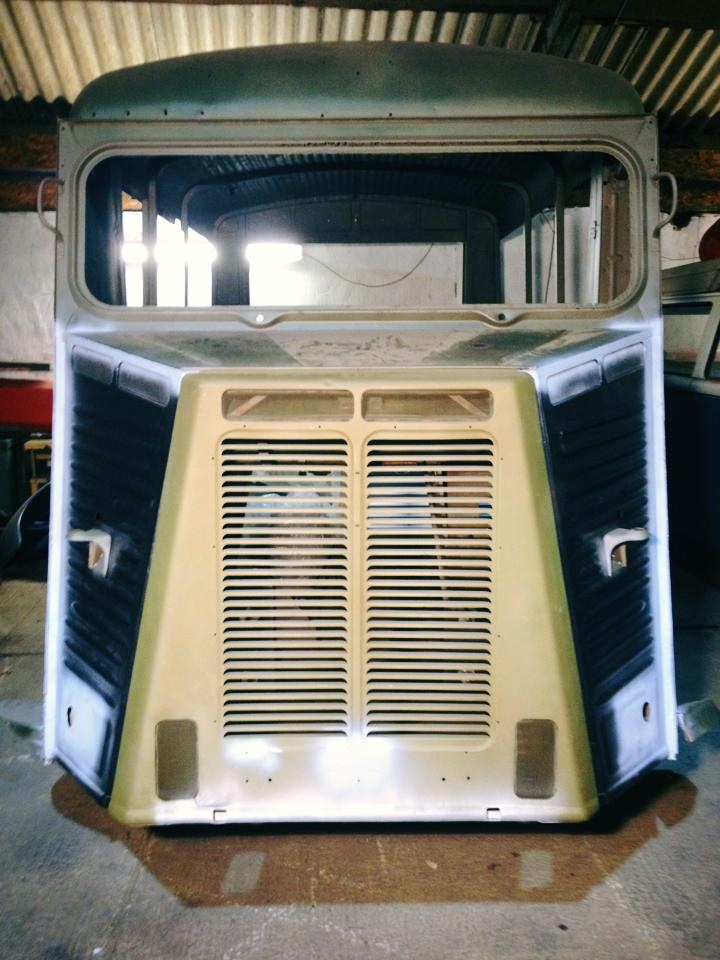 Repairing the Windscreen Surround, before :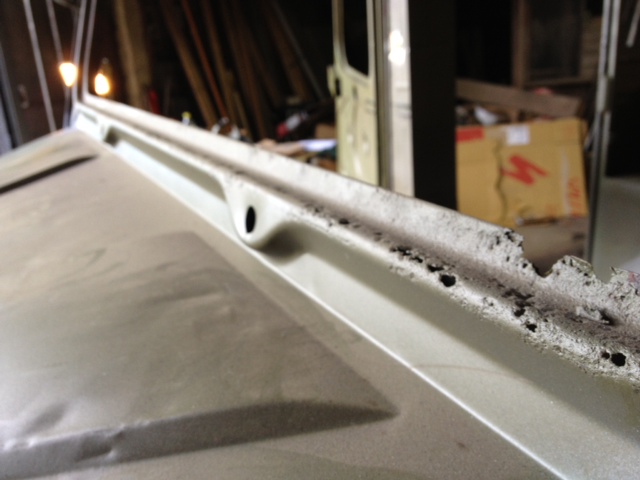 After :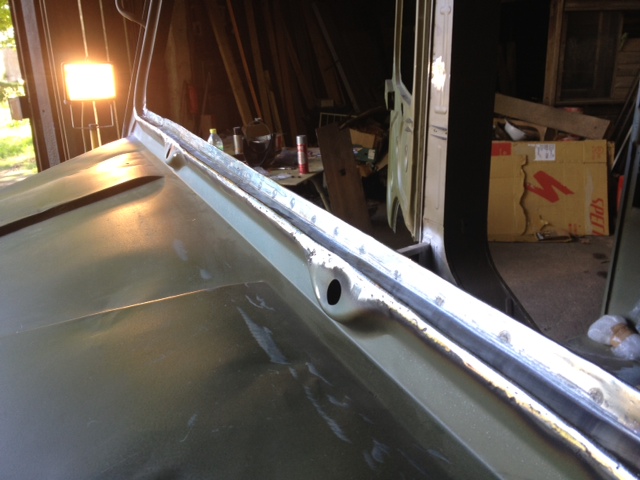 10th
March 2014 -
Paint job done! 3 months to maiden voyage. Still a way to go yet but at least I can see the light at the end of the tunnel now!
I drove an H Van for the first time on Friday – not my own but won't be long now!
Our engine has gone off to DS Workshop near Potters Bar to be revived. Plan is that Dean will transport our van down there in a few weeks time and it will all be rebuilt. It's all getting very exciting now. Hopefully we will be on the road by end April
Interior designed and materials chosen. First camping trip booked for last weekend in June (which also just happens to be my birthday)!.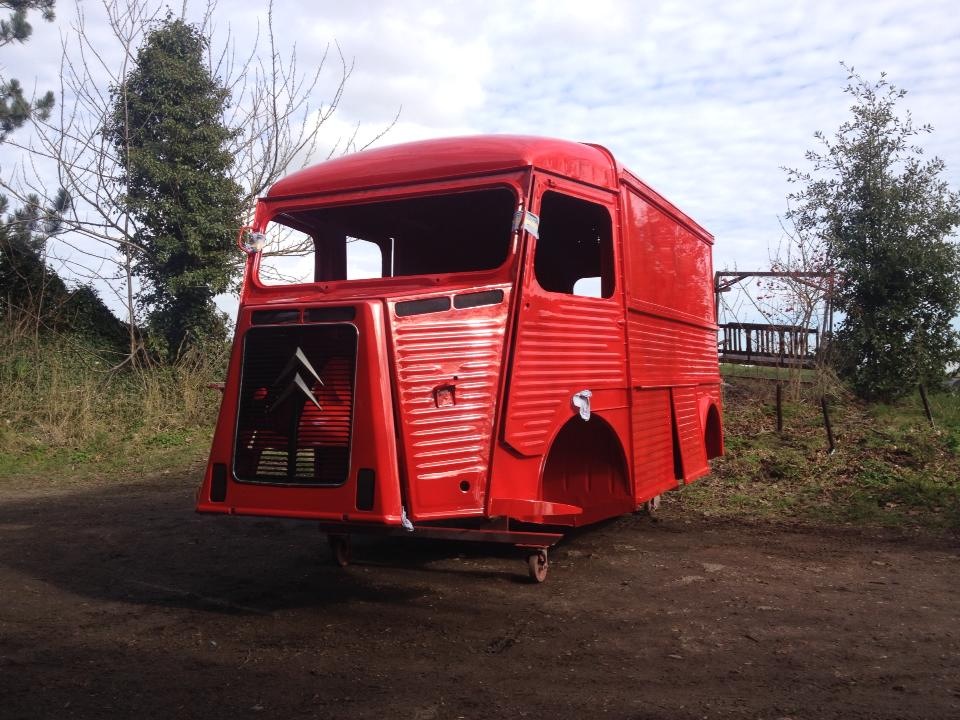 The Bodywork restoration is now complete and pristine. Below the van is being taken to be re-united with its fully rebuilt Engine.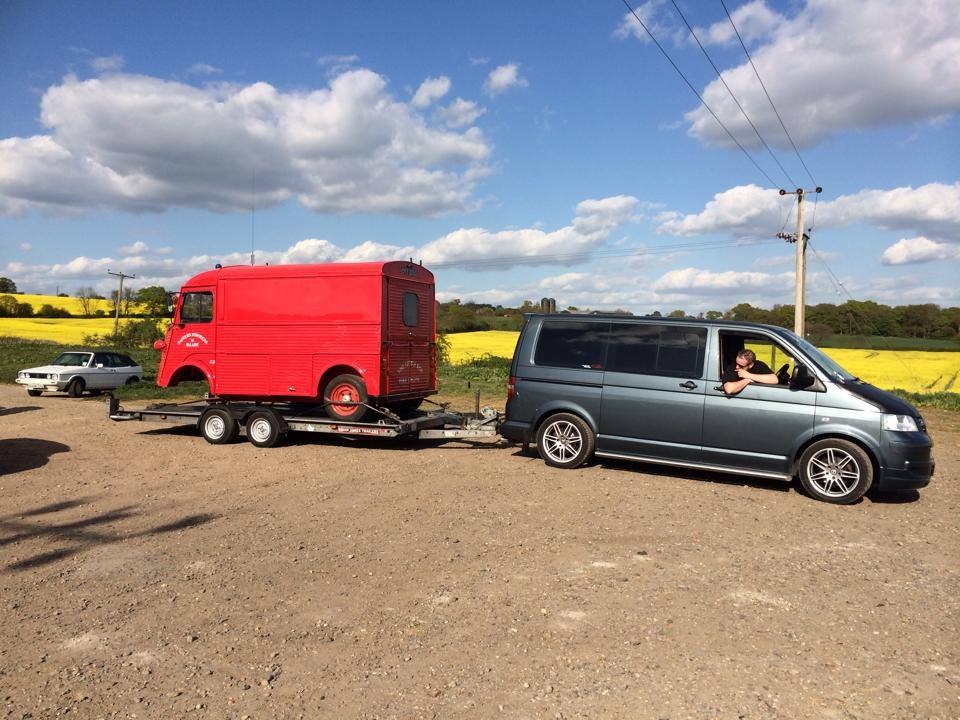 This van is now finished and up for Sale. It is probably the most famous Fire Engine Camper in the world judging by the huge number of hits on the web page.
The documented unbelievably thorough restoration makes it truly special.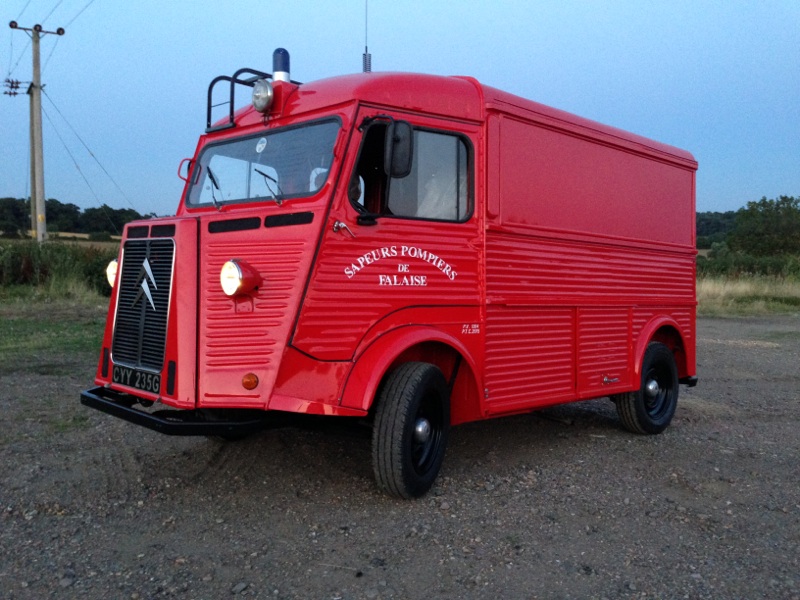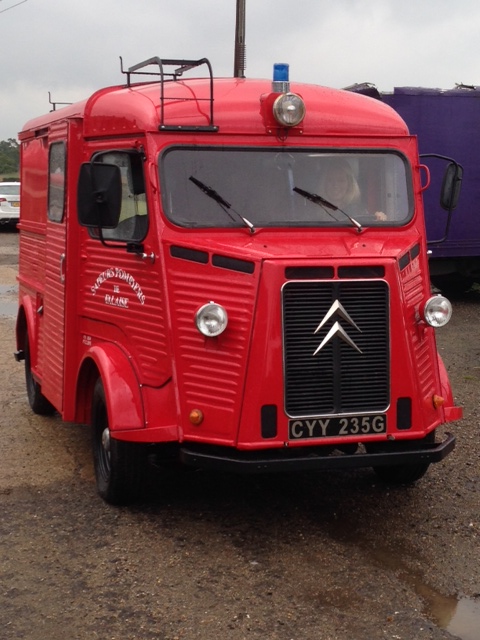 Camper Van Interior now complete and stunning :