Citroen H van Dimensions and Weights
This page covers the Weight, length and width of the majority of Factory built Citroen H vans, important dimensions, for someone thinking of buying a Citroen HY van in France and bringing it back on the Ferry.
Weight
Citroen H vans were built in the Factory in only a handful of variants, differing in weight from around 1,200kgs unloaded to 4,050kgs loaded.
See the note at the bottom of the page for info when towing a Trailer loaded with a H Van fitted out as a Catering unit as it will most likely be illegal?.
The Standard van and Pickup were the staple offering direct from the Citroen factory. Almost all the other varients you see are special builds by the hundreds of Conversion companies that once existed in France up to the 1980's. To support these Coach builders, Citroen supplied numerous parts like roof extensions and panels.
This Horsebox below, with it's Hi-top roof and 450mm rear body extension would have been built by one of these companies. The Citroen H was very popular as a Horse Box/beast carrier because of its low rear floor and 1,911cc engine, when other vans of the day had engines as small as 1,200cc, like the Volkswagen Transporter.
It is because of this huge variation on body types and sizes you will find variations on weights and dimensions, the ones below apply to a Standard van. We would guess that a Horsebox like the one below could be another 600kgs?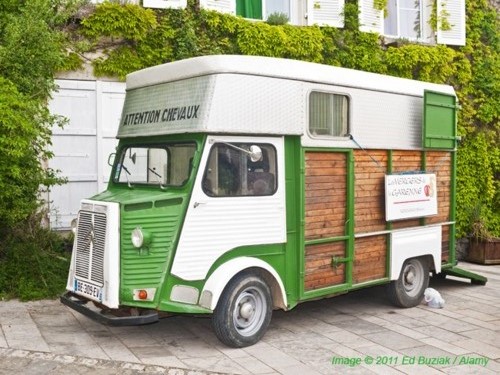 Height
Please also note that a Citroen HY on a trailer will only fit on certain decks on the Ferry, it is too high for most 'Car decks', so you need to ensure you specify the height correctly when you book your return. Please don't think you can just pay extra if you get the height wrong, there may not any spaces. One person we know had no option but to unload the van off the trailer to be able to get it into a Car deck that had spaces. As the van was a none runner it was a real task that took considerable time to both unload by hand and load again which made the Ferry late departing. The surcharge they then had to pay was 4 times what they expected. Bear in mind that the Camper and Horsebox versions can be up to 18inches higher than the base van, add the Trailer height of about 12" and your might find you are restricted to the Lorry deck on a return journey?
Width
At 6' 1" the wheel track is wider than most trailers we found for hire. You need a trailer bed with a width of at least 6' 3" and an overall width of about 7' as the sliding side door protrutes quite a lot and can catch on some trailer mud guards.
Because of this width and the narrowness of most trailers it is not a good idea to drive the vehicle on.
If you want to see how easy it is to drive a Citroen HY off the side of a trailer, watch this : http://www.youtube.com/watch?v=DjhwJjDlmPs
You will notice that the trailer in the video is a very good, wide one and yet still the space either side of the wheels is limited, making it very easy to drive off the side.
Ensure that the width between the trailer mudguards or other iron work is at least 7' 3". This makes for a very wide trailer and you may need extended towing mirrors to be legal.
Standard Van.
Length - 4.2m
Width - 2.0m
Height - 2.3m
While it is not a legal requirement to have mirror extensions, by law you must be able to see clearly down the side of the towed vehicle. Therefore if the van is wider than the mirrors and you can't see down the side, you may fall foul of the Law.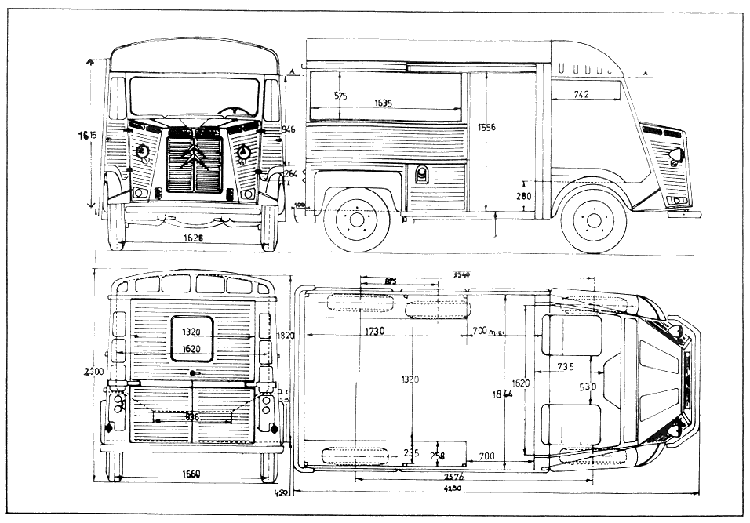 Weights and Towing
On the vehicle 'weights' plate just inside the door on the passenger side, you will find the Vehicle max Weight (PTC) and the all up Train weight or towing weight of Van + Trailer (PTR).
PTC = Poids Total en Charge = Gross Vehicle Weight (Rating) = GVW or GVWR. This is the max. loaded weight of the Van alone.
PTR = Poids Total Roulant = Gross Combination Weight (Rating) = GCW or GCWR. This is the maximum loaded weight of the Van and any towed trailer. Often called the Gross Train Weight.
You may also find on a van rated at 2975kg:
Poids maxi sur l'essieu AR a ne pas depasser (Max weight on the rear axle not to exceed) 1,600Kg
Poids maxi sur l'essieu AV a ne pas depasser (Max weight on the front axle not to exceed) 1,580Kg
These are the important Axle Weights required to register the vehicle in some Scandinavian Countries.
Any conversion you carry out on the van must not take it over the PTC including Water, Fridge, Milk, Stock, Driver, passengers, Drink Cans, Fuel, Gas Bottles, etc. Remember Gas bottle weight relates only to the weight of the Gas, not the cylinder which will be about the same again. So a 47kg Gas bottle will actually be about 90kg total weight.
The van conversion should evenly distribute the Weight so that no axle is overloaded. In a HZ which only has a 800kg limit overall with 400 kg spread evenly front and back axle, you can see that a 500kg Wood burning Pizza oven installed at the front is going to get you points on your license if you are stopped.
A fitout in Stainless Steel can add a lot of weight reducing the payload you can carry. Consider other options, if you can. Excess weight will also harm fuel consumption, Tyre wear, servicing, reliability and the ability to go up Hills.
Clearly if you exceed the maximum design weight the vehicle, it can overload the suspension and Tyres leading to dangerous Instability. This can then lead to a Fine, an Immobilisation order where the vehicle is unable to be moved until the order is lifted, and points on your License.
VOSA was replaced by the Driver and Vehicle Standards Agency (DVSA) in 2014. They have realised that a 550Kg wood burning Pizza Oven, Stock, 3 Fridges, tank of Water, Generator, Stainless steel kitchen, 47kg gas Bottle (actual weight is about 90kg), Drinks Cans, Driver/Passenger, Fuel, etc often tend to put the H van Catering Conversions over their weight limit so they have been targetting H vans and especially H vans on trailers.
Taking an H van to an event on a Trailer.
There are two legal aspects to Towing an H van on a Trailer, the first is who can Tow via their Driving License entitlement. The second is the weight limits that dictate what is safe to tow.
The law on who can tow a trailer and the capacities allowed can be different dependent on when you passed your Driving test, in simple terms those who passed their test prior to 1997 can tow a Trailer with a Maximum Authorised Mass (MAM) of 8.25 tons for Tow car + trailer + Trailer Load.
Those passing their Driving License Test after 1997 but before 2013 are restricted to a MAM (Tow Car + Trailer + H Van) of 3,500kg. The 3500kg is the all up weight of Tow Car + Trailer + H van which would normally exceed 3500kg.
E.g. 2,000kg (Tow car) + 740kg(Trailer) + 1250kg (load, an unladen H van as it came out of Factory) = 3,950kg
Passing your test after January 2013 restricts you to a Trailer (including the load) of no more than 750Kgs. This is a very simple interpretation, CLICK HERE for the full details on Towing with a Car.
When towing in connection with a business, i.e. towing a Catering H van, with MAM of over 3500kg, usually requires a Tachograph. With this goes restrictions on how many hours you can drive in a day and week.
The above documents your License entitlement but each Towing Vehicle and Trailer is ALSO subject to individual restrictions on weight combinations for reasons of safety. An unstable towing outfit has the potential to kill.
Example Combinations towing a 950kg twin axle trailer and 2,900 h Catering van.
The very capable Nissan Navara 4 x 4 has kerb weight of 2,000kg, a maximum tow limit of 2,600kg, yet a typical heavy duty twin axle transporter trailer at about 950kg and a 2,900kg Citroen H Catering van would give a combined Trailer weight of 3,850kg so way over the 2,600kg towing limit, hopelessly illegal. The MAM or all up Train weight would be 2,000 + 2,900 + 950kg = 5850kg
A Range Rover Discovery weighs around 2,500kg, has a towing weight limit of 3,400kg, so even this won't be legal with a Catering van and trailer weight of 3850kg. The MAM weight of 2,500 + 950 + 2900 = 6,350 is within the Discovery 6,700kg limit but would a colossal strain on the Discovery.
If you had this combination and passed your test after 1997 you would be also be breaking the Driving License MAM limit of 3,500kg.
To further complicate matters your trailer and tow car will have an axle weight limit so the weights must be balanced between the trailer axles, front and rear. For example a trailer may have a 3,000kg tow limit, with 1,500kg spread evenly on the trailer front and back axle. If your Van has a wood burning Pizza stove at the front of the van, along with the weight of the Engine/Gearbox, then you may find you have 2,000 kg on the Trailer front axle and 1,000kg on the Trailer rear axle so be breaking the Law, even if you are within the overall limits. Obviously the Trailer has these limits to ensure the tyres are not overloaded on one axle with a risk of blowout.
These are figures for a standard van, the weight of a long wheel base van could be more.
An even further complication is that if you stay within the weight limits, you could still be prosecuted for a dangerous load.
A Discovery towing a trailer with 3400kg of steel low on the trailer bed will be a much more stable outfit than a H van on aTrailer with its very high centre of gravity and massive flat sides. Believe me, in a strong wind or when a Lorry overtakes, a heavy H van on a Trailer is frightening as it begins to snake from side to side behind you. If you are lucky the Weight of the Tow vehicle will bring the snaking under control.
Legislation can't easily control the volume or how a load is transported, so it relies upon a 'Catch all' that it is the Drivers responsibility to ensure the outfit is safe and stable and not a danger to other road users.
So even if your H van trailer and load is within limits in every single area, it will still be one of the most unstable you can carry.
If you could get the trailer + H van within the 3400kg tow limit of a Disco, the laws of physics suggest a 3400kg load is going to make it's presence felt versus a Tow Car weight of 2600kg.
All the towing advice from all the Motoring Organisations says an ideal towing outfit will have a load no more than 85% of the Towing cars weight. If the Driver is experienced and the Trailer + Load very stable then, some say, that a weight equal to that of the towcar would be acceptable. This makes the practical limit, following all the expert advice for the Trailer + H van, to be no more than 2600kg behind a Discovery.
If you exceed the 100% guidleine and there is an accident, regardless of fault, it would be easy to aportion blame to the towed load. If there is a fatality, it would place the Driver in a very difficult position.
It might sound like we are being over the top, but in my 55 years I have towed a lot of loads with many different vehicles. An empty H van on a trailer is the most unstable.
Being stopped and having a prohibition order slapped on the outfit is not funny, I know, it happened to me. I got stopped driving a LHD Peugeot J5 2.5 turbo Diesel (2,800kg towing limit) pulling a trailer of 750kg and a van of 1400kg. Because the Peugeot was not officially imported into the country it was not on the VOSA list.
I got stopped at 11:49, half an hour from my destination, but eventually got home at 23:43. I had to unload the van off the trailer and get both trailer and van recovered on a flatbed. Expensive!!
I was lucky because I was subsequently able to prove I was within the law so not prosecuted, not fined and had the prohibition of movement lifted. The 6 points on my License were also not applied.
While I was waiting for the Police/VOSA to decide my fate, I saw a lot of Trailers and Vans being brought in by VOSA/Police and a lot of massively overloaded vehicles which were dangerous beyond belief. Disappointed as I was at my situation, I could why they were doing it.
The Police officer in charge said they targetted me because the load was an H van which they are aware are often over the limit with all the Catering equipment and stock. One H van they stopped had over 200kg of water in tanks, 96kg x 2 of Gas bottles and 300kg of stock which was mostly drinks. When you consider a Citroen HZ only has an 800kg payload (which remember includes driver and passenger) and you can see they were running close even before all that heavy Stainless Steel went in.
If your Catering business requires a lot of heavy stock, consider alternatives to heavy Stainless Steel, speak to your local Council first. Stainless Steel isn't always the only option.
Towing an empty, standard H van of 1350kg on a light weight trailer from France is fraught and scary but possible with care.
A 2600kg + Catering H van is a completely different prospect.
A VW Toureg V10 Diesel TDI can apparently tow a Jumbo jet, so maybe one of these will be O.K?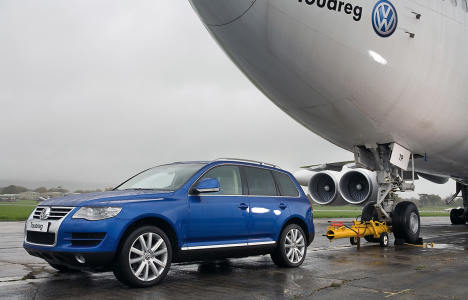 No sorry, good as the mighty Toureg V10 5.0litre Diesel TDI is at pulling a Jumbo, it would still struggle to be legal with a heavy 2900kg Catering van on a 900kg trailer.