Fiat 500 Abarth Race car : Do you know it's history?
A friend has acquired this Fiat Abarth Race car that has a mid mounted Autobianchi A112 engine driving the rear wheels and wants to know it's history. I have a fondness for the early Fiats, and because this car was so unusual I could not resist doing this page to try and find out more about it. Posted April 2015.
STOP PRESS - 27/11/2015
We have been contacted by Alberto, he calls himself Alby, from Italy who says he constructed the Car, he writes :
"Buongiorno
Allan,
This
Fiat
500
was built
by myself at
my house
in Italy, near Lake Garda
about
15
years ago
. It was
constructed
to compete in
G
ymkhanas
that
were fashionable
at the time.
The engine
was an
A112
965,
Blue
printed
,
polished
Con
rods,
Mirror polished
Crank
shaft
,
High lift C
amshaft
,
lightened flywheel
and
twin choke
carburetor
of the A112
1050
.
The
rear wheel drive Transaxle/Gearbox
was
a
F
iat
850
with
welded
differential
.
It was later
fitted with a VW B
eetle
transaxle
with
an A
lfa
Romeo
75 LSD D
ifferential and larger 13" wheels.
The Cars specail feature
was
an Electric Motor that operated t
he handbrake,
locking up
the rear wheels for fast handbrake turns.
When
the
gymkhanas
became increasingly
fast
using
motorcycle
engined Kit Cars
we moved
to
slalom
uphill racing.
I send you pictures of both the Fiat 500 and my latest Race Car, a Fiat 126.
I guess anyone could have contacted us and claimed it used to be their car. However, the car does have a very unusual feature in that a fast operating car Starter Motor has been connected to the Handbrake cables!!
A clever way to get handbrake turns without taking your hands off the wheel.
This information is not public knowledge, confirming that Alberto did indeed build the Car. To say I am delighted we tracked down the Constructer is an under statement.
Hopefully Alby will tell us more at a later date?
This is the original Post :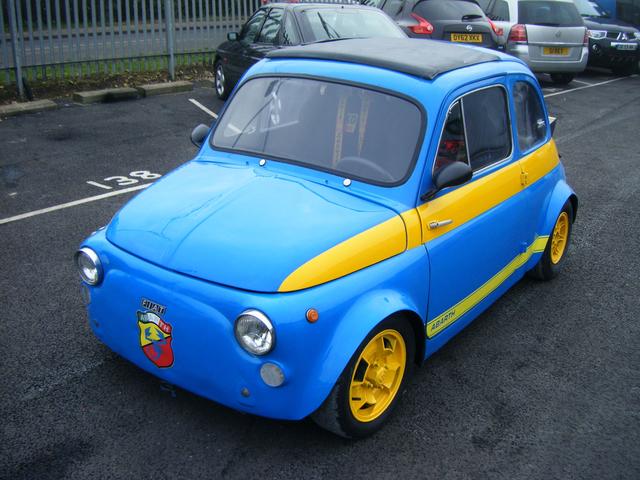 Anybody know when it came into the Country from Italy. It's history over in Italy or here?
It was offered for Auction in 2013, but the Auction website lists it as unsold, see below.
H & H Auction Sale Date: 4th December 2013
Lot Number: 7
1963 Fiat 500 D Race Car
Not Sold
| | |
| --- | --- |
| Reg Number: | N/A |
| Chassis Number: | 110-0529096 |
| Engine Number: | 4242847 |
| Cc: | 1000 |
| Body Colour: | Blue |
| Trim Colour: | Black |
| MOT ExpiryDate: | N/A |
This LHD 500 was allegedly used as race/hillclimb car in Italy up until a few years ago, and will require some light recommissioning before competing again. Running fine, its mid-mounted Autobianchi A112 1000cc engine boasts a race clutch, lightened flywheel, Abarth crankshaft, twin-choke carburettor, blueprinted pistons and c.80bhp, while other modifications include: VW Type 1 gearbox, vented front brakes, electronic power steering, adjustable front suspension, 10-/12-inch wheels under extended steel arches, space-framed underside and alloy floor pans, Perspex screens, race seats and four-point harnesses.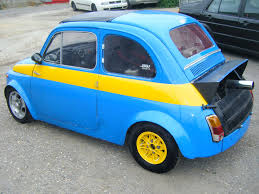 It was then offered by Bonhams in 2014 and listed as follows:
1963 FIAT 500 Competition Saloon
Chassis no. 110-0529096
This highly modified FIAT 500 has been raced in Italy but not in the UK. Its specification includes a mid-mounted engine transmitting drive via a race clutch to a Volkswagen Type 1 gearbox and transaxle with modified output shafts, while the car's underside is braced by an additional spaceframe. The engine is a 1,000cc Autobianchi A112 four-cylinder, which incorporates an Abarth crankshaft, high-lift camshaft, blueprinted pistons, lightened flywheel, Holley twin-choke carburettor, electronic ignition and a four-branch exhaust manifold feeding a (loud) free-flow exhaust. We are advised that the maximum power output is approximately 80bhp. Upgrades to the running gear include adjustable front suspension; FIAT Punto electronic power steering; vented front brake discs and wider wheels (12" diameter front; 10" diameter rear).

Other noteworthy features include twin rear-mounted cooling fans; alloy floor pans; race seats with four-point belts; extended steel wheelarches and Perspex windows (including screen). We are advised that the car runs and drives well, the engine and gearbox being described as 'all good'. Light re-commissioning will nevertheless be required, as it has not raced for 2-3 years.

Offered with FIAT UK dating letter, this unique '500' would make an ideal hill climb, track day or race car subject to any modifications required by the prevailing regulations
The above documents it being fitted with a Autobianchi A112 engine which might seem a strange fitment but the A112 engines were derived from the Fiat Tipo 100 engine which was also fitted in the Fiat 127 in 903cc form.
If anyone can supply any more information on this Car, please use the Form on the Contact Us page.
It can be seen at Roberts Garage, Abergele : 01745 833194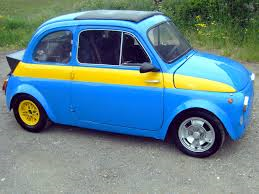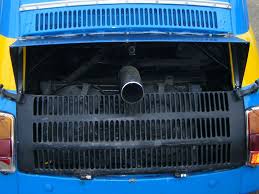 More Info from Alby, Alberto :
This photo below was sent by Alberto of the Car being raced in Italy: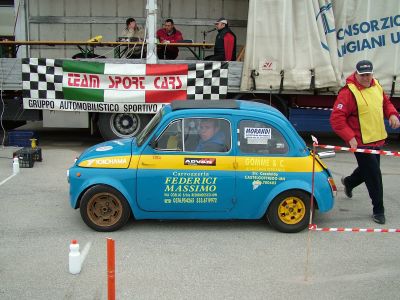 Alberto also sent these photos of a Fiat 500 racer version that he built prior to the Blue and Yellow car.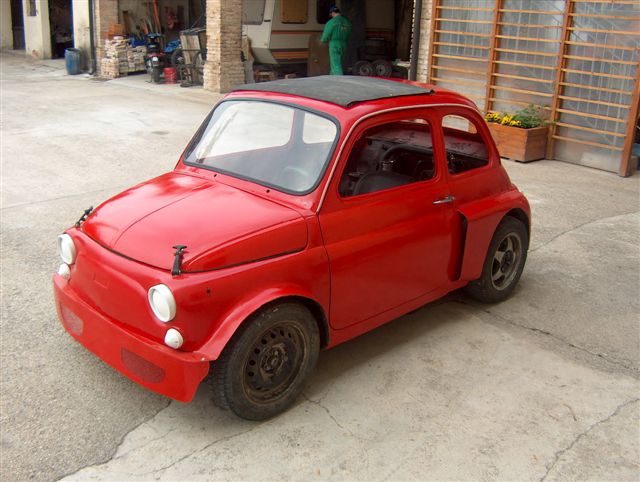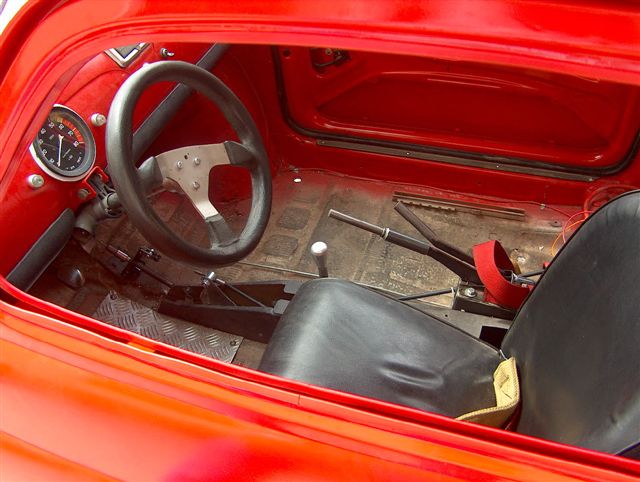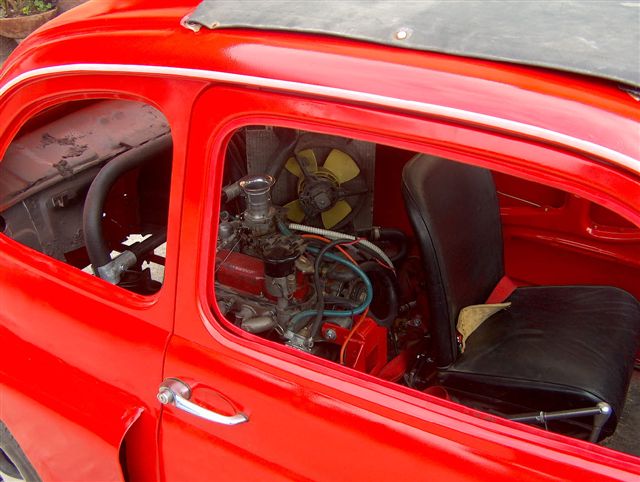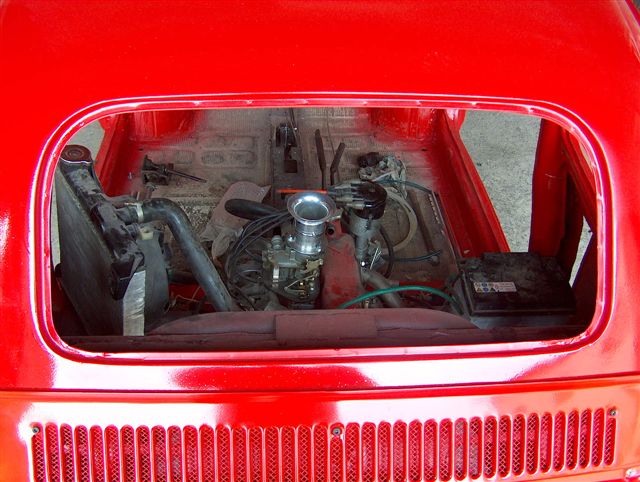 Alby's Latest Racer :
Below can be seen Alberto's latest race car currently under construction, his skill is clearly visible.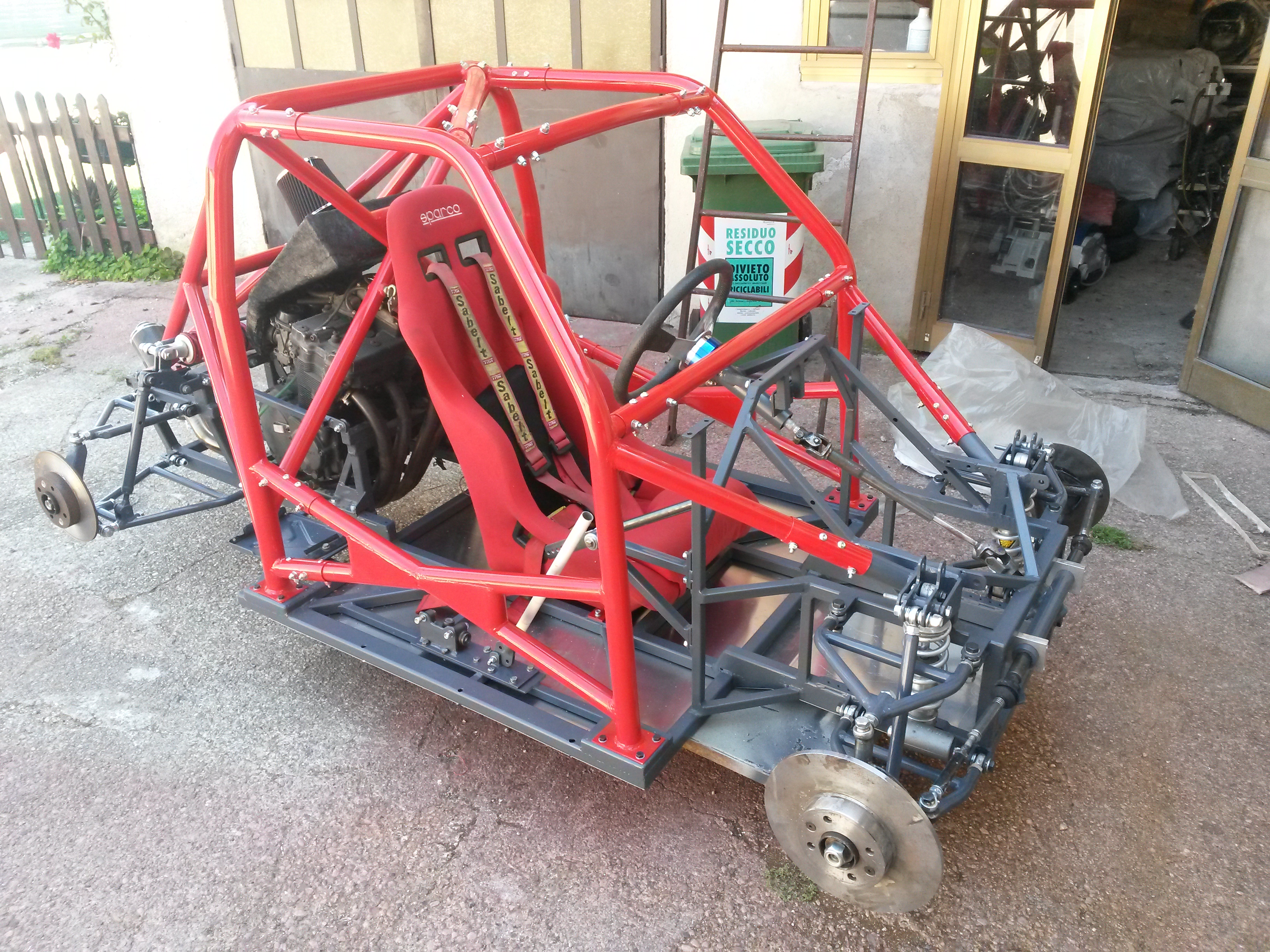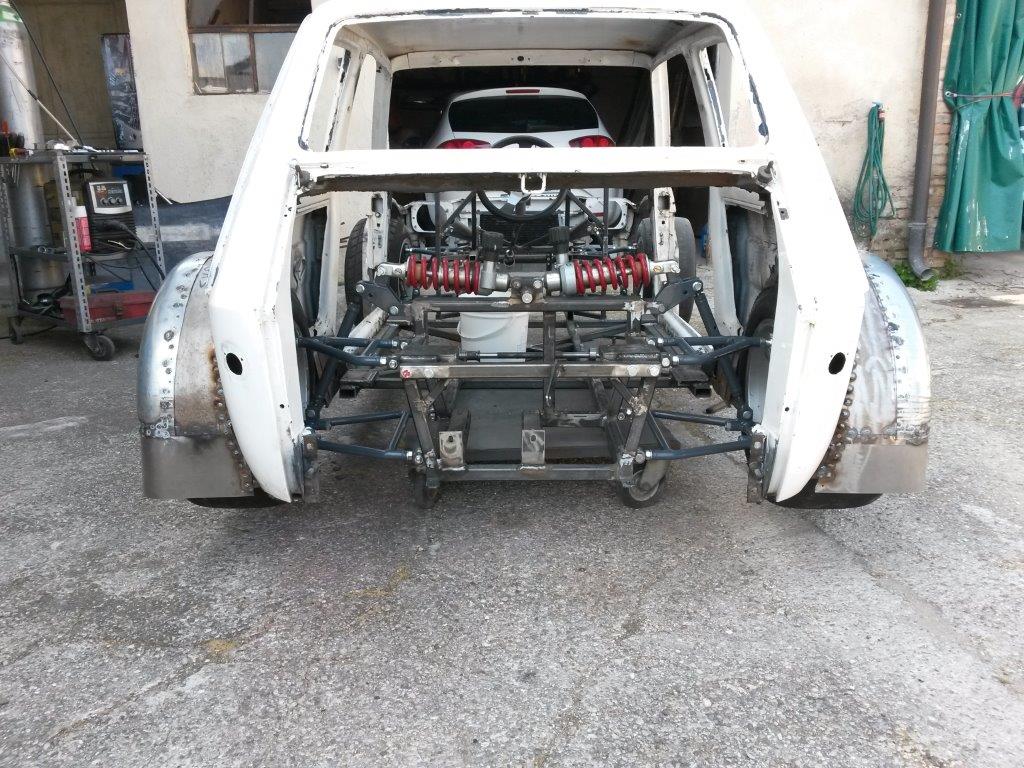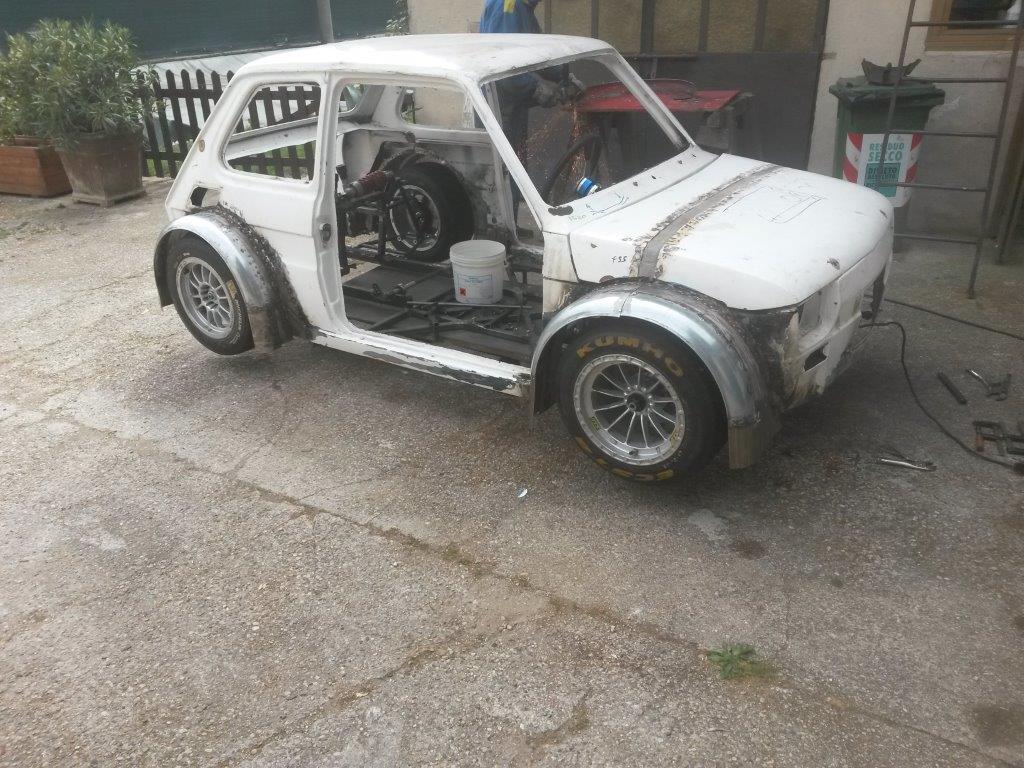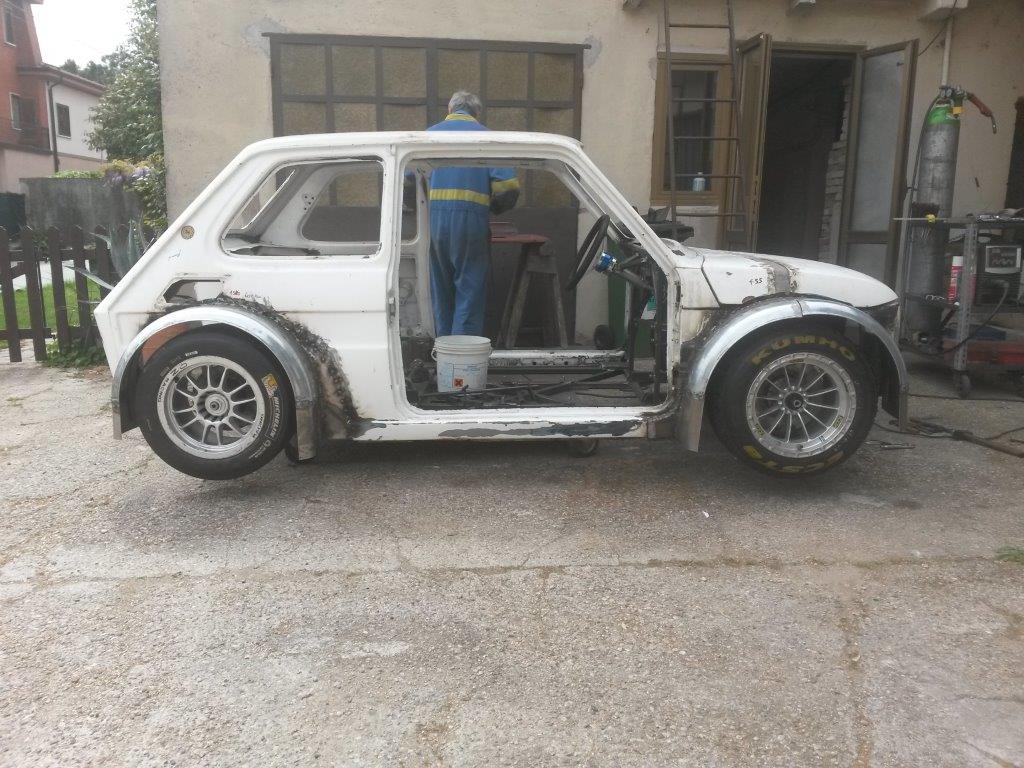 No wonder Simon thinks he has a cracking little car. It has real pedigree.