Citroen H van Gallery
This web page will display any photos we receive. Please email your picture.
This is Bertie owned by Frobishers : http://frobishers.com/
If you see him out and about please buy something from his owners, who spend a lot of money looking after him. Support them to support Bertie and help make sure he stays in their ownership for a long time.
If you like H vans support them when you see them and also wave. They will see you as they will be going so slowly and be so relaxed they will be able to take in the World and wave back. :)
Apparently a Pizza bought from a H van will be three times better than one bought from any other Catering Van/Trailer.
Our latest project completed Friday 15th January 2016. Andronicas Coffee Publicity and Delivery van :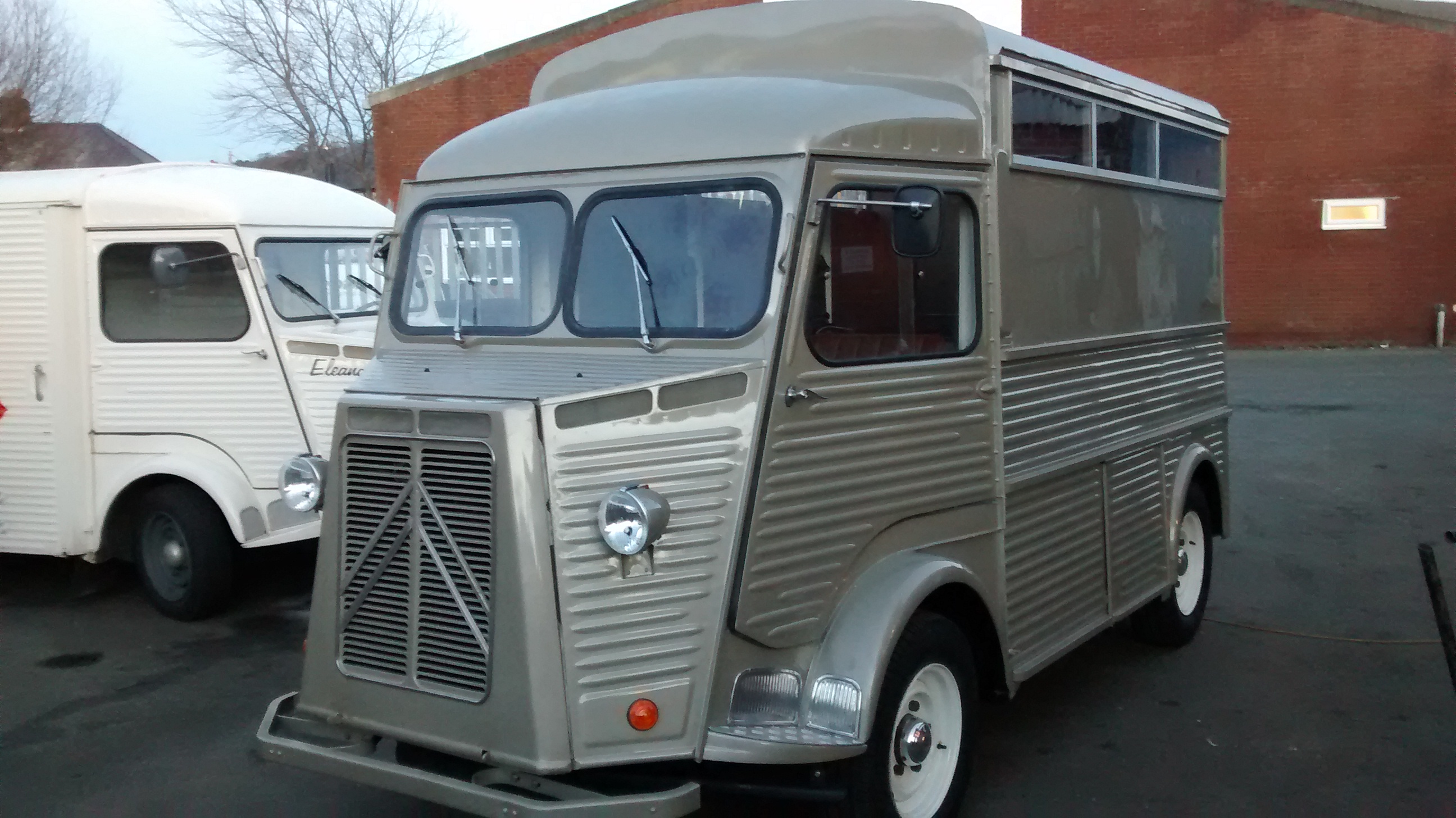 The Van above has been completely dismantled, Blasted with soft media to remove the old paint and rust then had every component rebuilt or renewed. Even down to the Shock absorber bushes. The front Nose Cone is new, as is much of the rear body. The rear doors are also new builds. Note the little details of the polished wheel centres, new door handles, new foot plate protectors, etc.
Everything is new or rebuilt, with the exception of the Speedo/clocks which we still can't obtain parts for.
It has a rebuilt Gearbox mated to our famous Engine transplant. A really nice 1961 van that has been rebuilt with all the modern reliability and driveability we could put in.
It even has our bespoke Power Steering which in this version 4 guise is the best yet. Brakes are uprated with modern High Friction components.
When we got the van in 2014 it had been owned and used by the same French Farmer since 1968, having bought it when it was just 7 years old. So not quite a one owner van, but then a 55 year old van is still pretty special to have had only 2 previous owners in it's life. The third owners are Andronicas Coffee Suppliers to whom we have to apologise for the delivery of their van several months late.
Andronicas Coffee Co are Coffee Suppliers and Roasters. With Coffee machines for sale from £745.
Andronicas describe themselves as Gourmet Coffee Suppliers of pre-Roasted or Green Coffee Beans.
Andronicas Coffee Co Ltd
91-93 Great Eastern Street
Shoreditch
London
EC2A 3HZ
Tel : 020 7729 4411
E-mail : web@andronicas.com
http://www.andronicas.com/collections/coffee
Unknown, but lovely original Horse Box :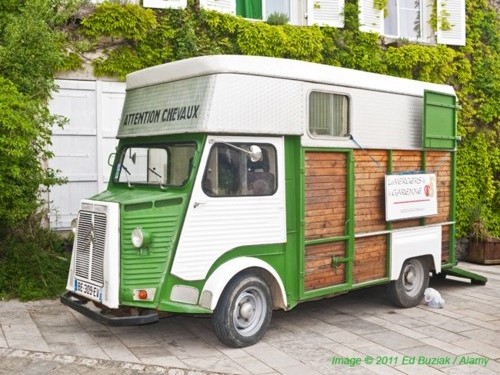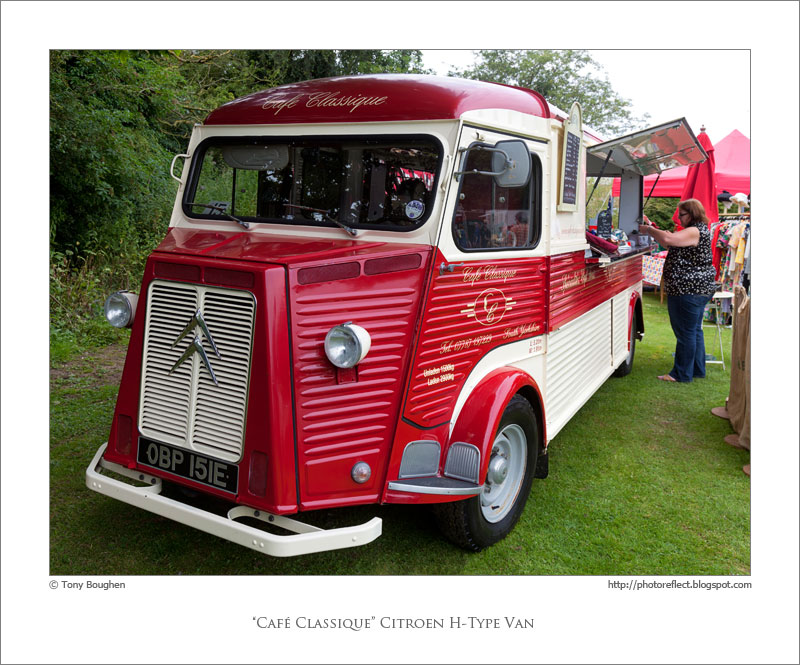 CATERING HATCH SIZE
We like the van above as it has a sensible Catering Hatch that won't weaken the van.
The Floor of a H van is a very clever design with a lot of strength when new. But, being of unitary construction, a lot of the strength is in the van body, sides and roof. What initially looks like big main chassis channels running the length of the rear are just 1mm thin steel, which corrodes from the inside out. When the floor corrodes thin after just a few Winters in the UK a lot of the vans overall strength is lost. The upper body, sides and roof then become a crucial part of the vans strength. Cutting a big full side Catering hatch in the sides of a Standard H van will leave it weak. Where a full side Catering Hatch was specified in the 1950's the much stronger Pick-up body was usually the Base vehicle, not a Standard van.
French built Standard vans had smaller Hatches with extra strengthening to compensate for the lost rigidity. They also carried much lighter loads with hardly any Catering equipment inside. We think people are seeing the Pickup based vans, which do have subte visual differences, then cutting their standard vans with full hatches leaving the van weak. A standard van if cut in this way will probably be ok when new/rust free and used as they were in France. However, add 1.5 tons of Stainless Steel and heavy catering equipment and the strain on the van is much greater than the designer ever envisaged.
A Long wheel base van is even more suspectible to chassis cracks and failure caused by a full side opening. If you are considering the purchase of a Long Wheel Base van with a full side opening, please get it checked to ensure it has a strengthened structure.
When fitted out with a full Catering conversion a huge amount of weight is added to the van which seriously loads up the van structure. Also check that the Hatch itself is made and attached correctly, many are dangerously weak and liable to take off in a wind becoming a lethal missile.
On the Pickup below, notice how the construction just behind the Cab is different? There is a semi flat panel that runs down from the roof all the way down and infront of the leading edge of the fluted first side door? If you look on the van above, the fluted panels, both mid and lower, run back almost from the door hinge.
If you now go back to the top picture of the White and Green Horse box you will see this started life as a Pickup, as they were a lot cheaper to buy and why pay for all the sides and roof when you are going to cut it off!!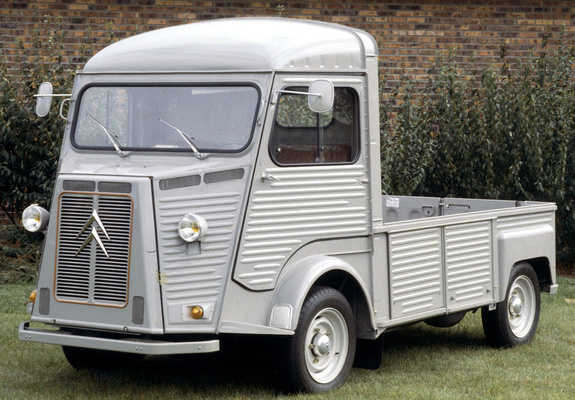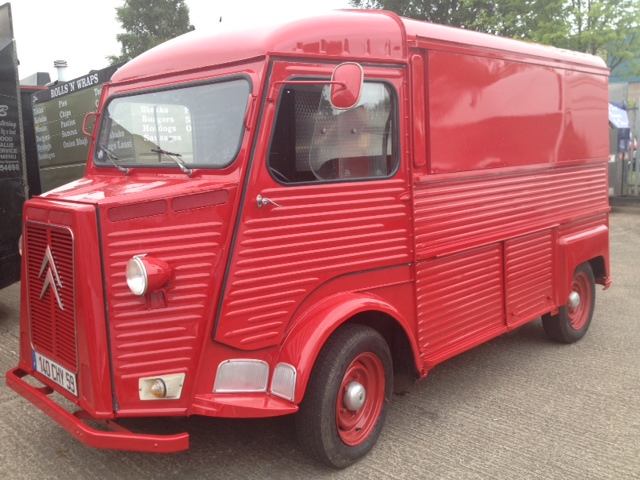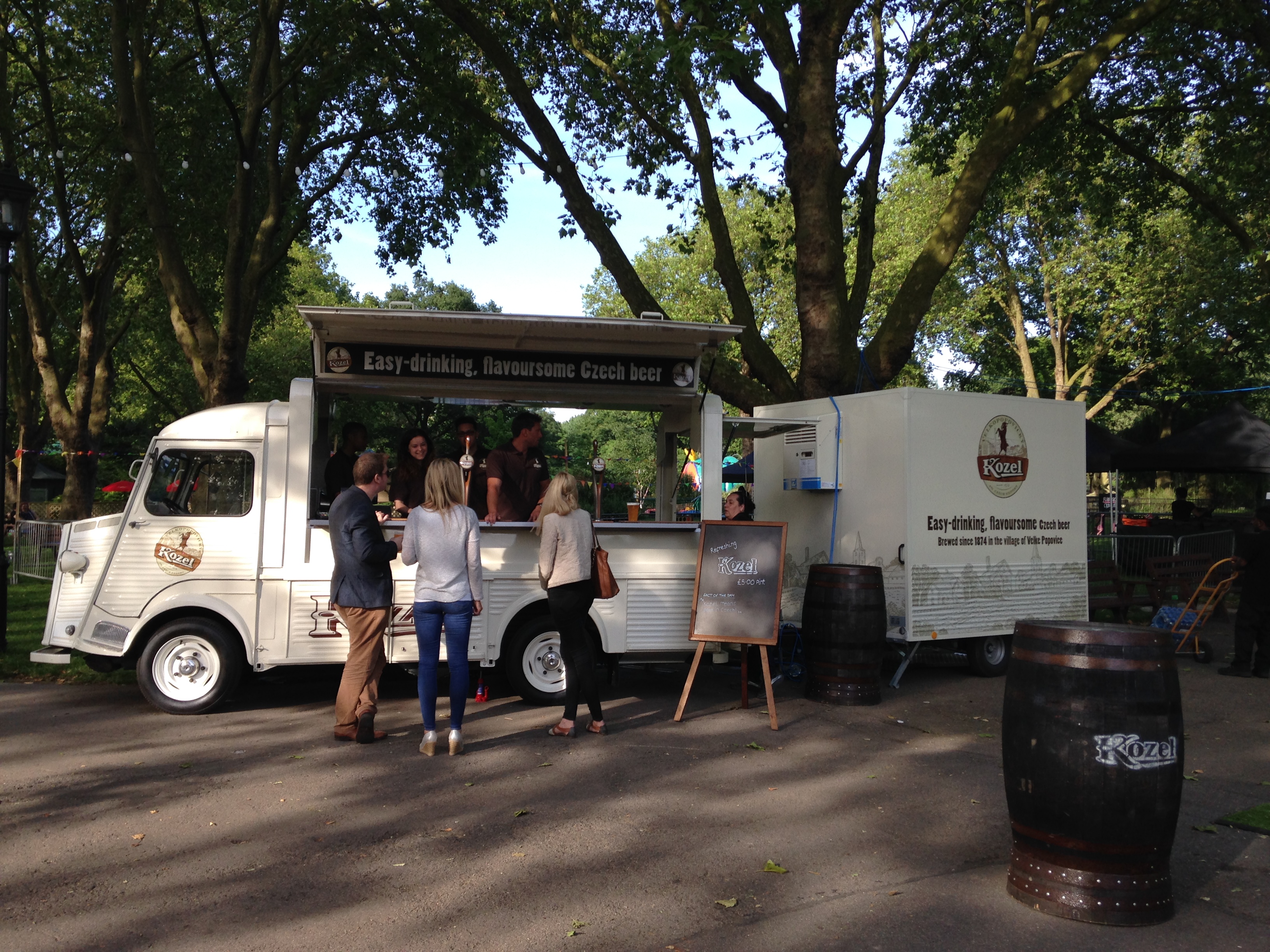 Above can be seen the Kozel Czech Beer Short Wheel base Pickup built by Wilkinson Catering. A special built body with full length Gull Wing like sides that the strength of a pickup allows to be created. If you can find out where this van is sited, try and get to see it as the construction is very clever. The sides, both of them, and part of the Roof open up allowing the underside of the roof to be used to advertise the product. Normally the advertising on the side of the catering Hatch is not visible once the hatch is opened. This design, and the Pickups greater strength, allows both full opening sides that would significantly weaken a standard H van.
Where else could this shot of the Wheeler Dealers TV show van be taken with the hills of North Wales in the background?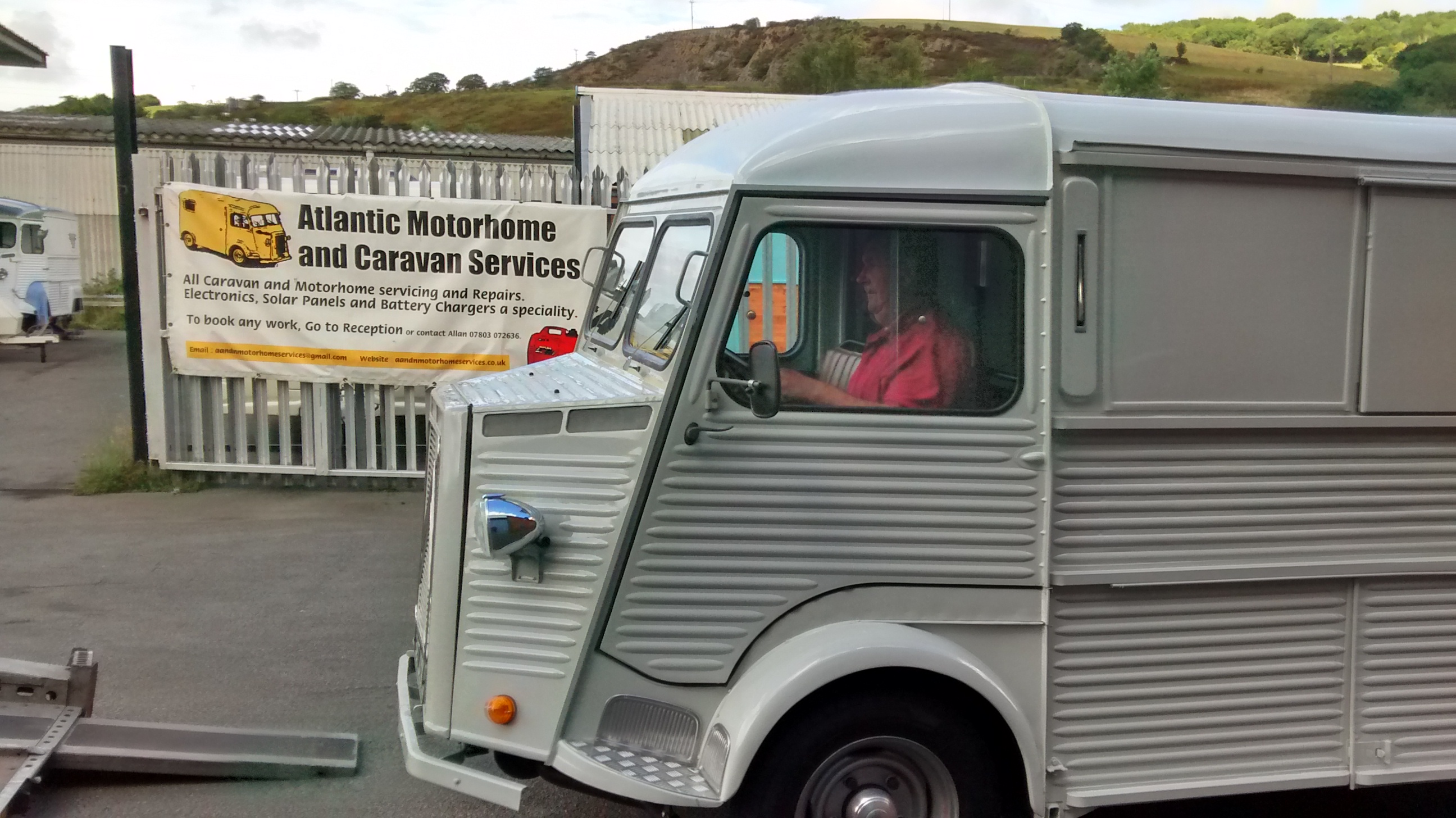 This is the Wheeler Dealers TV show van for which we have recently supplied a Ford Engine Transplant for. It has a rebuilt Ford 2.1 litre engine mated to the Citroen standard 3 speed box.
This is a picture of the van driving on to the trailer to go back to the studio after we did the body work and other bits that Ed China did not have time to do.
Anyone remember the long wheel base Pickup we sold?
This is it below.
In Summer 2014 we did a mechanical restoration on a Citroen H van Long Wheel Base Pickup.
Because we always envisaged it being built up into a Standard van there was little value in restoring the bodywork which was left pretty much as it arrived from the South of France.
We sold the van with the potential to be built up to a really good, very strong, Long wheel Base standard van.
We have now been sent photos of the finished conversion, see below :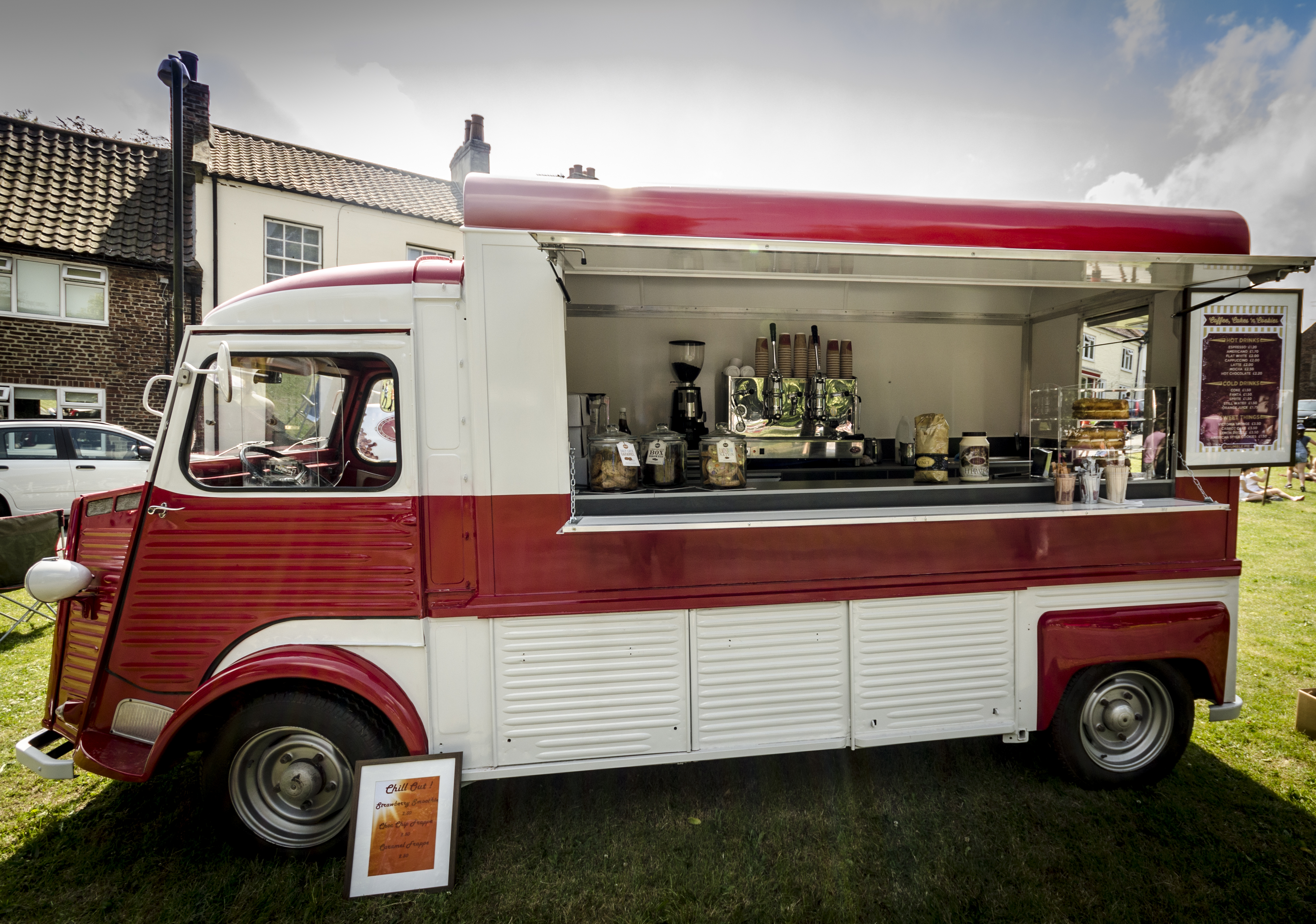 It was bought by Eugene Lanny (Eugene@caffevinci.com) of Caffe Vinci and The Humble Pie Van company Eugine writes :
"Hi Alan, A couple of 'before and after' photos, I haven't done many miles since I got this van from you nevertheless it starts off the key virtually straight away even after standing for long periods, just passed MOT without any work….very happy with it. Thank you.
Regards
Eugene.
The Humble Pie Van…In Crust We Trust !"
A brilliant transformation. Hard to believe this Pickup below was the original vehicle :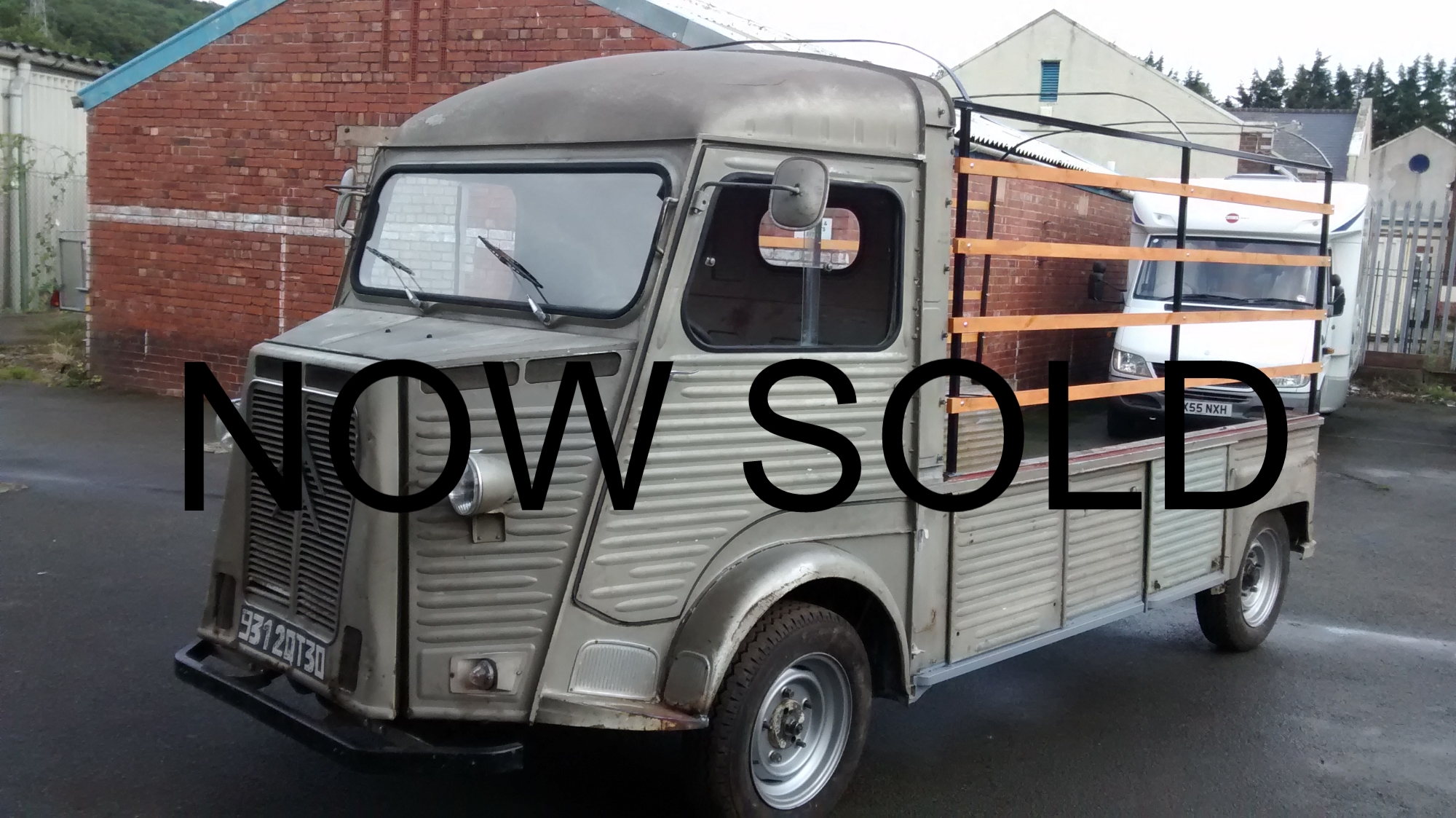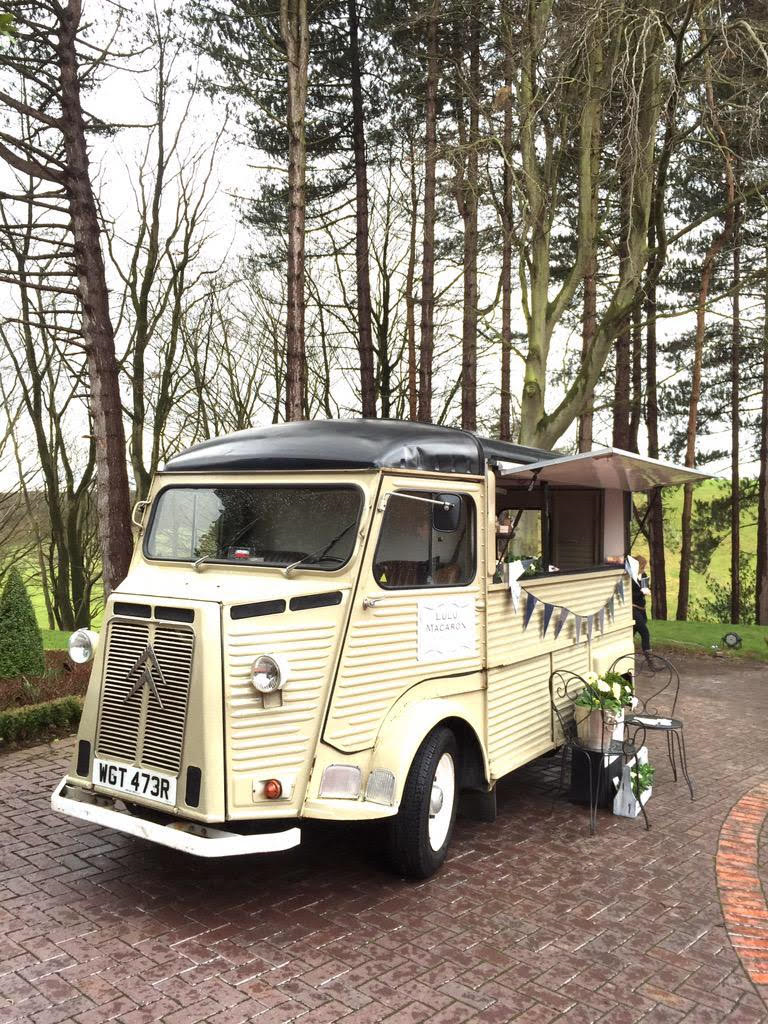 La Colombe are a company based in Chicago :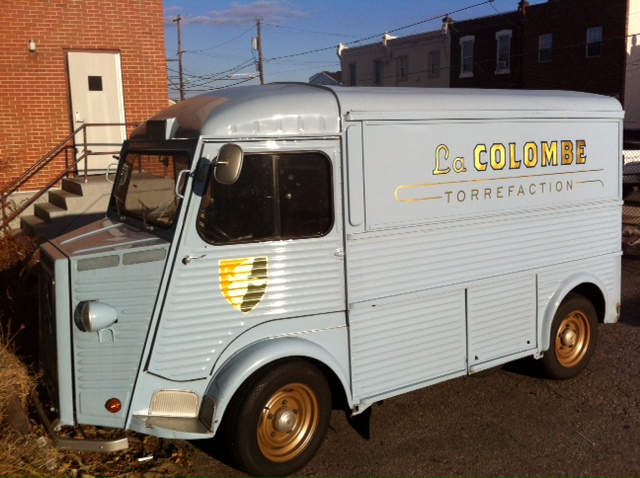 This below is the very rare pre-production prototype from the designer Franchiset, we think this was from 1941 ?
Found in a Garden just outside Lyon.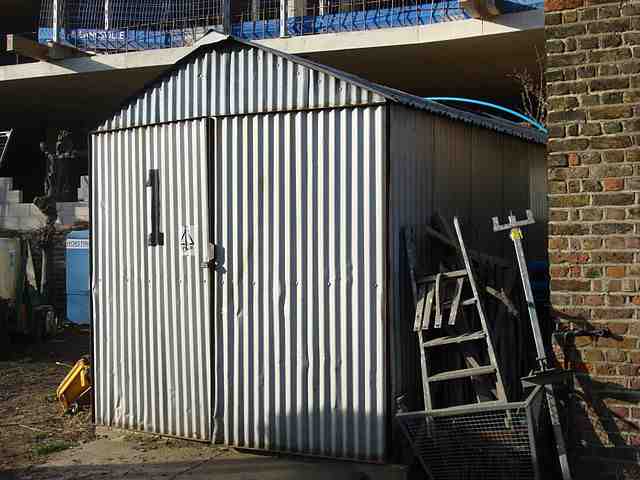 Below is another Pickup based vehicle that went through conversion to Horse Box then back to a Van. This van has a further variation with an extra long lower fluted panel extended forward to the Wheel arch. Even though the base vehicle is the stronger Pickup 'chassis', having such huge side opening serving hatch's may compromise the vehicle strength on such a long wheel base vehicle without extra stregthening.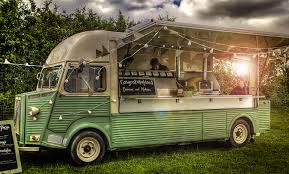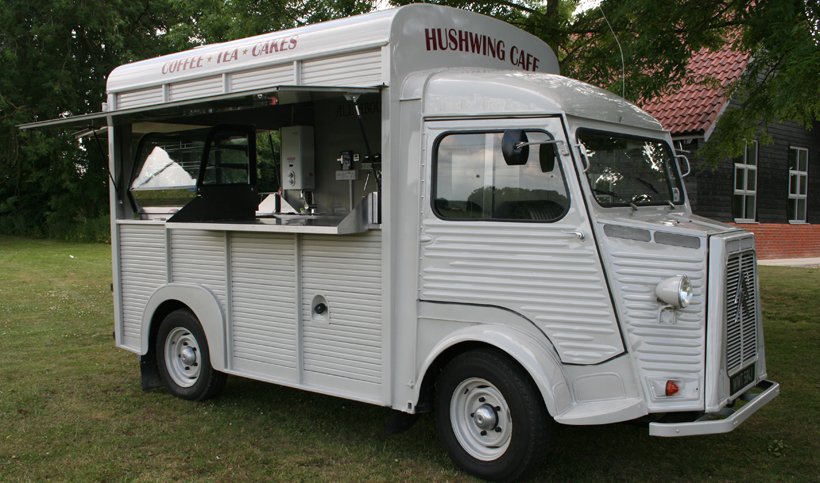 Above is another Wilkinsons Catering vehicle based on the stronger Pickup chassis along with sturdy external strengthening bars to the rear. We think this would carry it's full sized Catering hatch well. Very nicely executed.
On the van below note the door hinges to the Front and the very thick wedge of the Foot Plate on this Dutch built Beast carrier below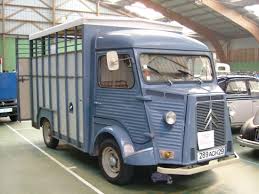 The 2CVGB August 2014 National Rally parade lap prior to the start of the 2CV 24 hour Anglesey racing.
I love this 2CV van in the centre, they are being used as promotional vehicles in the same way the H van is, only on a more manageable scale. A very affordable alternative to a H van. I want one.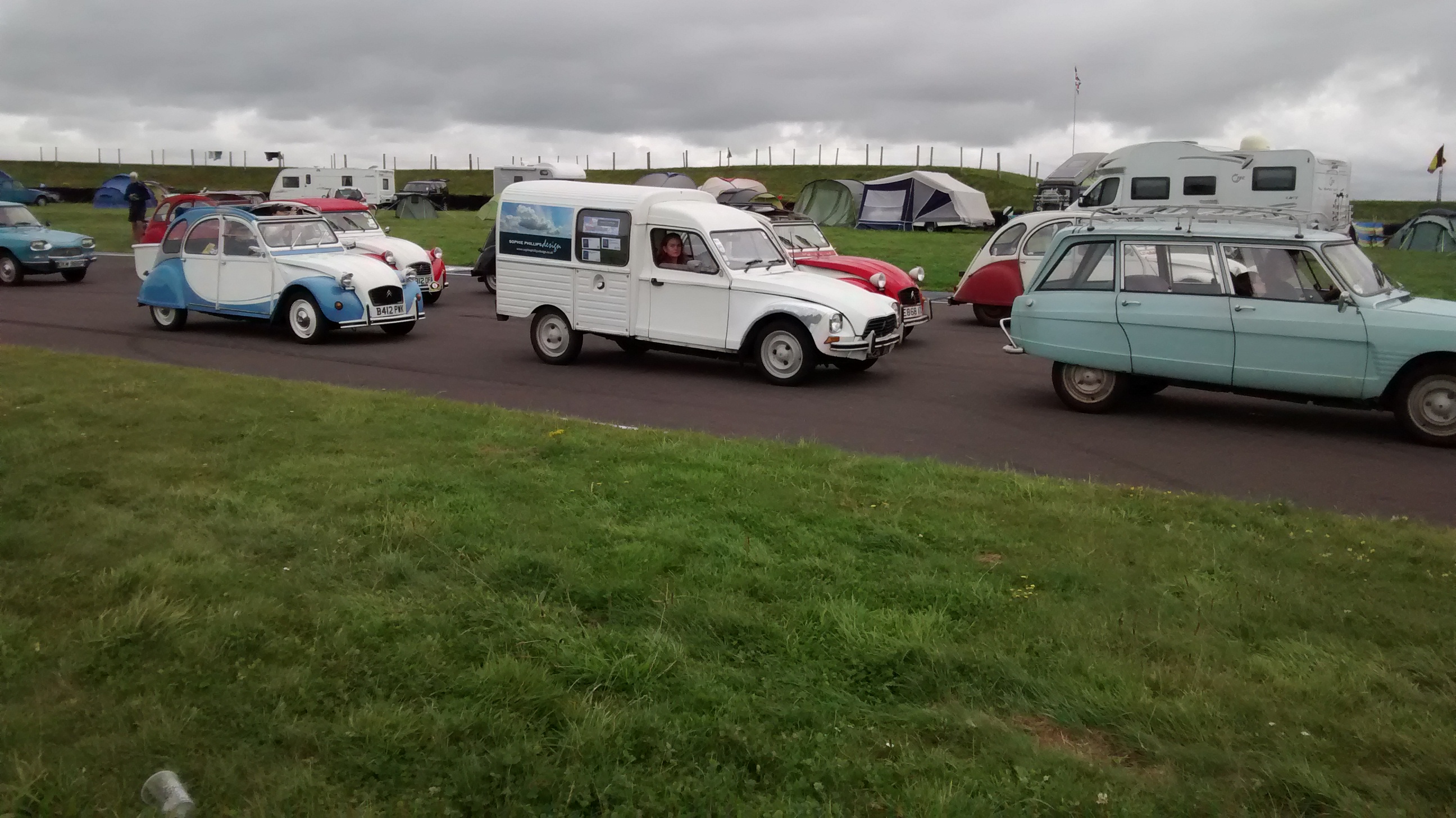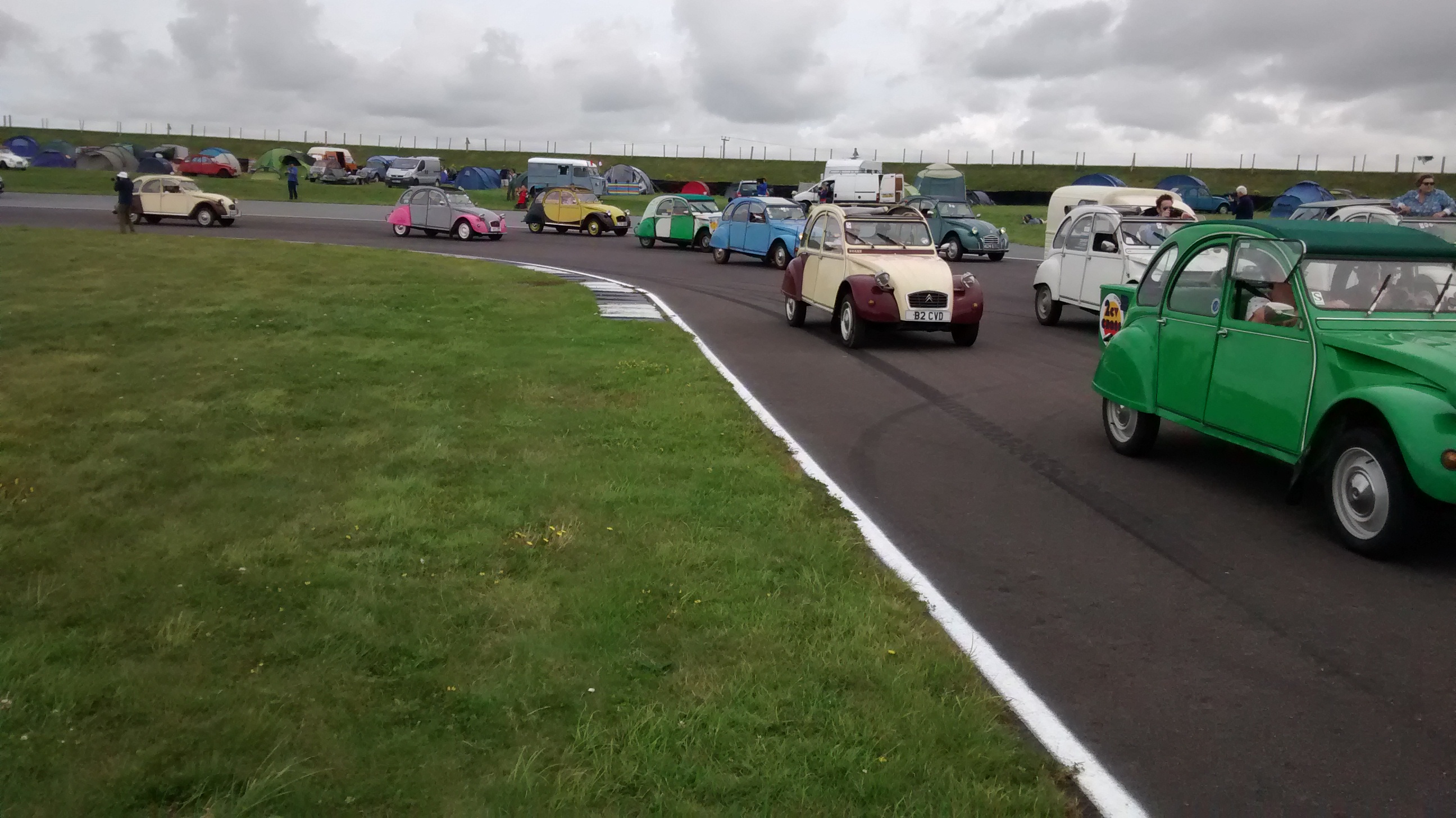 In the photo below, the Lotus 7 style race car was in great condition as was the Blue and White Camper van in the centre.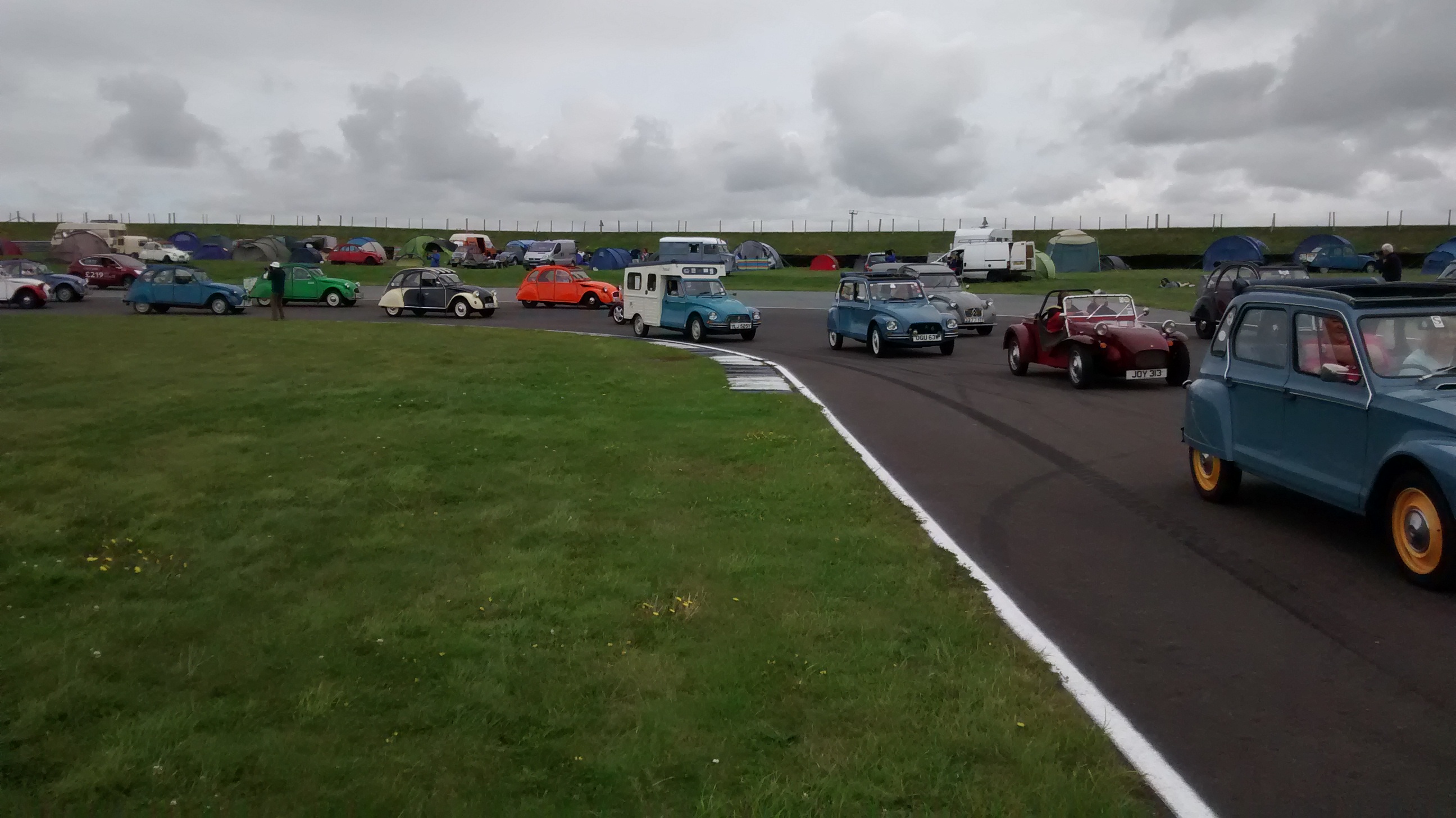 Believe it or not these 3 are all Citroen 2CV's. We couldn't believe how fast they were. If you get a chance to go to the 24 hour 2CV race any time, you should go. Everyone is so friendly.