Catering Conversions and Full Restorations.
MODERN FORD ENGINE TRANSPLANT FOR EVERYDAY RELIABILITY/LOWER RUNNING COSTS AS SELECTED BY THE WHEELER DEALERS TV SHOW, Season 12 episode 16.
CATERING CONVERSIONS WITH RELIABILITY THAT IS GUARANTEED. 12 MONTHS WARRANTY ON ALL OUR WORK AND PARTS
Our Catering conversions begin by getting the van reliable. No point you having the most fabulous fitout and paint job if you can't drive it 2 miles.
We rebuild or renew everything from the Shock absorber bushes to the engine.
Only thing we can't currently rebuild is the Dashboard Gauges as parts are not available.
We have developed a Ford Engine Transplant that completely transforms an H van.
The Ford Engine transplant was selected by the Wheeler Dealer TV show to add value to their restoration
Ed China said, "it's had a Heart transplant which is why it feels and drives so much better".
They drove it nearly 400 hundred miles, and in the words of Ed, "it didn't miss a beat".
Mike Brewer said, "It drives brilliantly with that conversion on the Engine, it really does work".
See the episode here : https://www.youtube.com/watch?v=AMaQcflYMLU
We are the only Citroen H van Restoration company in the UK that has developed an alternative, reliable, cost effective Engine Transplant that is easy to care for. The engine we use has a reputation for being very strong, cheap to run (an Oil filter costs £3.20), and unlike the later H van engines, it doesn't have a tendency to digest it's Head Gasket. A clutch for our engine costs £68 as opposed to the Citroens £300+, a Distributor is just £64 not £220, an Alternater £71 not £299, etc.
That we have such a happy high profile TV show customer shows that despite the technical difficulties of making a H van reliable, we can do it well. Hence our unrivalled 12 month warranty on all our work. We also stock exchange FULLY rebuilt Citroen original Engines and Gearboxes so we can turn around your sick H van.
Our strong technical bias means that your H van Catering Conversion is done properly with the back-up you need well after you drive from our premises.
When converting a Citroen H van into a Catering vehicle Stainless Steel is not the best option. These vans are from an age when transporting goods long distance meant going beyond the next Village. High mileage was a term associated with 3,000 miles a year.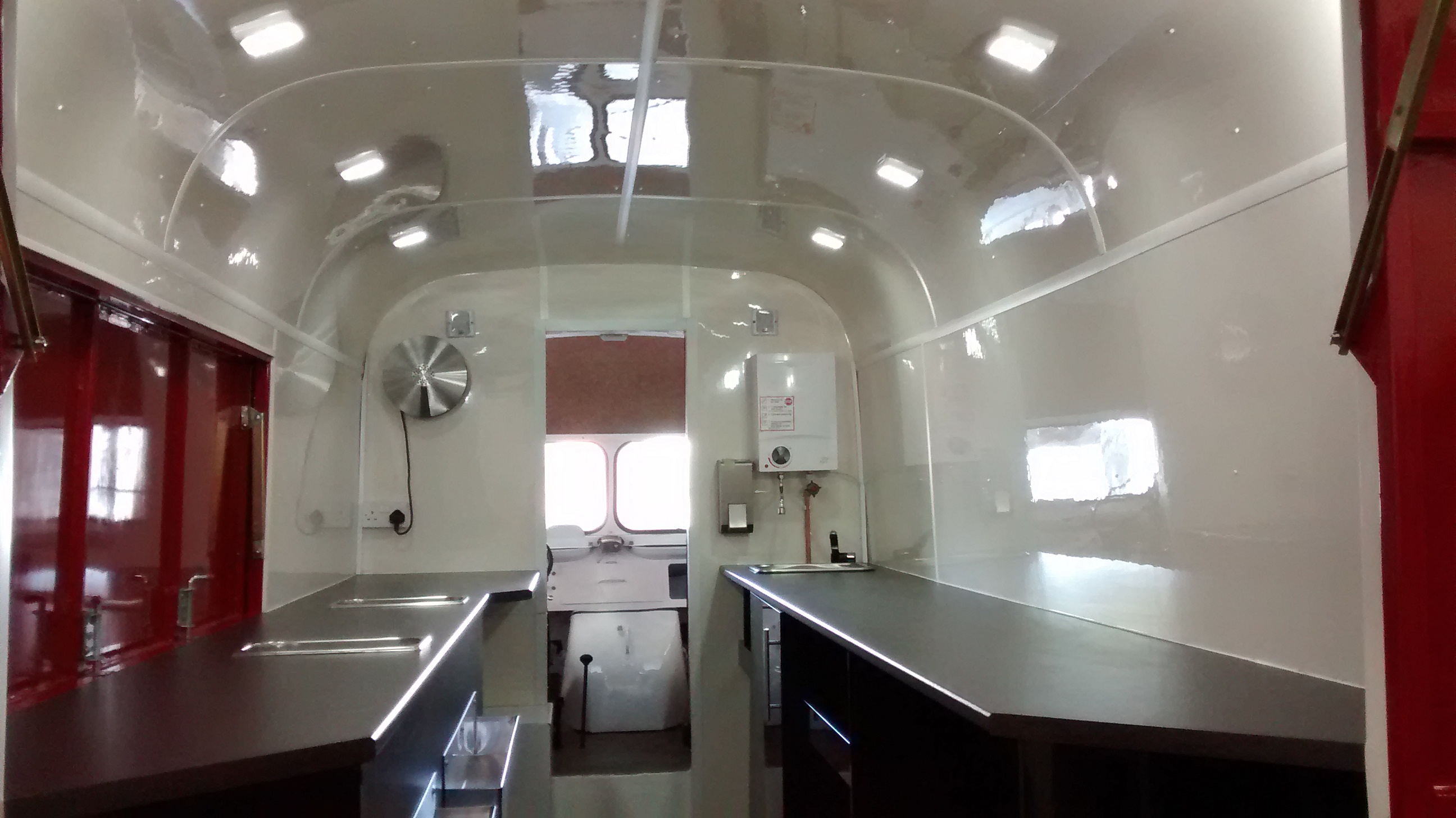 If you add a huge amount of stock weight, Refridgerators, Ovens, water tanks, Gas Bottles, Generater, Driver and passenger (they are part of the 'load') you will be taking a standard HZ well beyond its weight limit even before you throw in all the heavy Stainless Steel.
Many catering businesses do not need to have a Stainless Steel Interior, the Local authorities usually stipulate a wipe down surface that is easy to keep clean. Hard Plastic is often good enough.
The above photo is one of our Interiors on a van we rebuilt.
Before you go for a very expensive, fully fitted Stainless Interior speak to your local authority.
This van below is one of ours. The H van is an extended, raised roof, plus full body and mechanical restoration by us. Under the bonnet is a reliable Ford Engine transplant ready to drive 300miles in a day.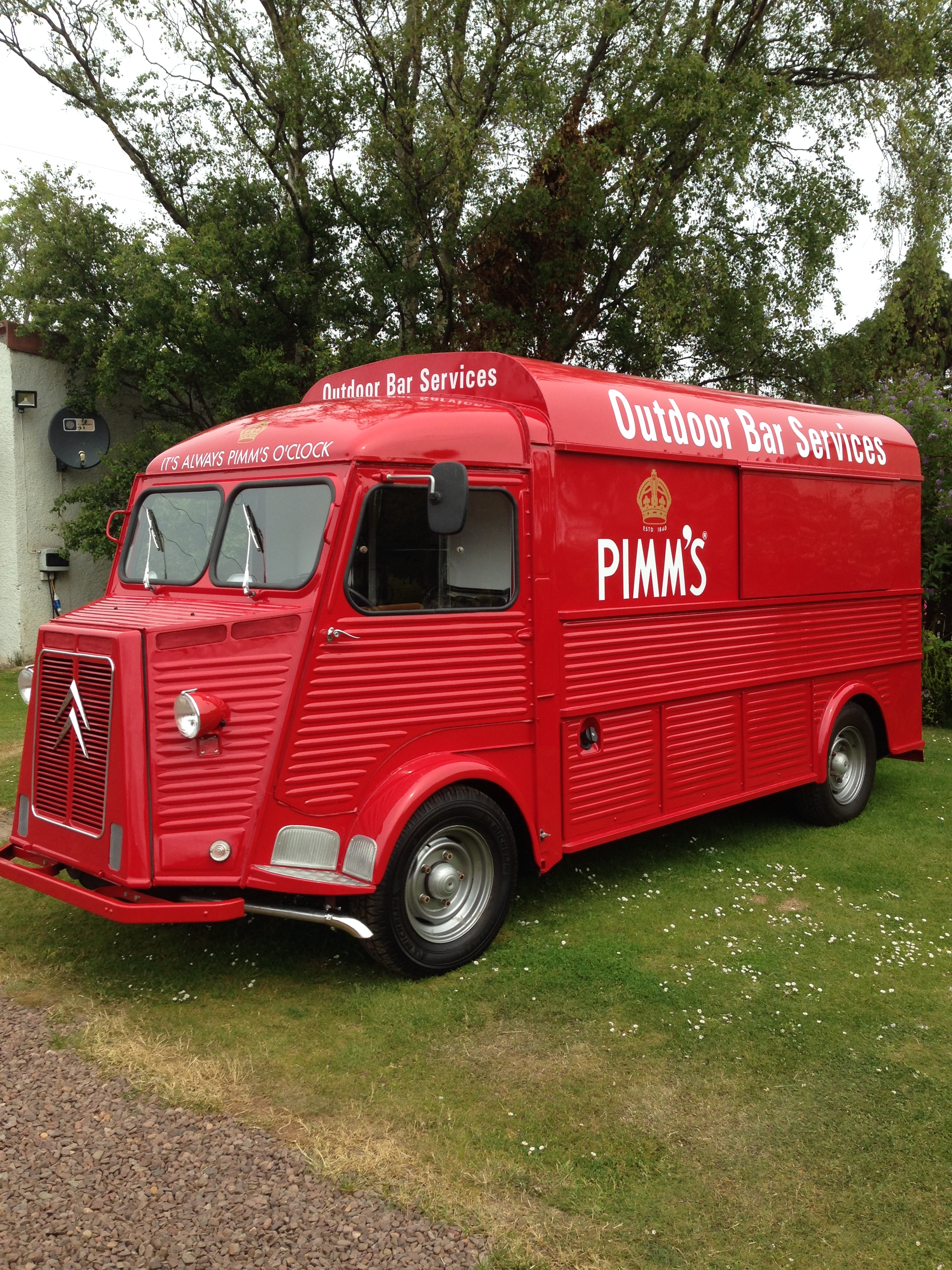 We understand Citroen H vans. We are customer focused delivering quality work and are prepared to back that up with a guarantee on the finished vehicle. One year Warranty on all our Conversions including the Engine and Gearbox.
Anyone considering a Catering Conversion should visit : http://www.streetfoodnews.co.uk/ it is the Home of Streetzine UK's Premier Street Food Magazine with details of Events, Business news, safety, Street food TV, Gadgets, For Sale, and of course your competitors!!
Atlantic Motorhome : more expensive than their competitors but the Warranty shows we have done it properly which will save you money in the longer term.
Contact Us HERE