LATEST NEWS
NEW : We are developing a Ford Zetec 2.0 Transplant to replace the Citroen H van Indenor Diesel Engines. This will sit alongside the highly successful Citroen petrol Engine Transplant. This new transplant is scheduled for March 2015 and will replace both the 1,946cc and 1816cc Indenor Diesels from 1965 to 1981.
HY van Immobiliser at £79 fitted. Low Cost Tracker at £120 fitted, controlled by your phone with no monthly fees, just the cost of the text messages to control it. Could save you hundreds on your Insurance every year. For more details CLICK HERE.
We are Atlantic, Citroen H van restorers and Catering vehicle Builders, who specialise in making a 60year old H van reliable. We are H Van Engine rebuild specialists with have a stock of exchange rebuilt engines and Gearboxes from £1,490. We have also developed a Modern Ford Engine transplant that transforms the H van into an every day working vehicle, CLICK HERE for more details. We can arrange collection of your van from anywhere in the Country to have a new engine fitted at our H van Restoration premises and then deliver it back.
Atlantic HY have created this website to help all those with H van find out what they need to keep them running.
It documents Citroen H van History, Technical, Buyers Guide, Citroen H vans For Sale and Wanted, Suppliers that have H vans for sale, Spares suppliers, Restorers, Useful contacts, etc.
There is also a page dedicated to Karans documented restoration of her Camper which we hope will help inspire others to do the same, see Karan below with her newly acquired 'Little Red Fire Engine'. See Karans Camper.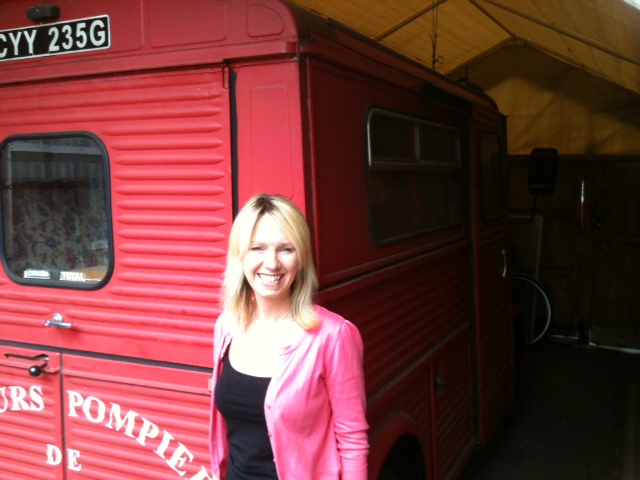 Karans Fire Engine Camper restoration has inspired the creation of a new website that contains Childrens stories of Fifi the French Fire Engine.
These stories document Fifi's adventures as a Fire Engine in Paris and in her new role helping her ex Fireman owner make a new living selling Coffee and Cakes in Chelsea. Great bedtime reading for up to 5 year olds, CLICK HERE or see the Fifi French Fire Engine page in the menu above
We are unique in the UK in keeping a stock of exchange Engines and Gearboxes, all guaranteed 12 months, demonstrating our skills are very much more capable than most.
EXCHANGE REBUILT HY VAN ENGINES AT £1790; REBUILT GEARBOXES FOR £1,490
Many restorations of Citroen H vans are for conversion to a Catering vehicle where reliability is key. The van will be expected work every day. While we love the Citroen H van, no 50 year old van is likely to be associated with the sentence "working every day, reliable, low cost vehicle". That's where we are Head and Shoulders above the rest. Our Catering conversions have a full mechanical rebuild with 12 month Warranty.
While we would cringe at a Vauxhall engine being used in a Classic Jaguar, Catering Conversions have Microwaves, Inverters, LED spot lights, Generators and Electronic Tills all totally out of step with period.
Our modern Ford Engine Transplant is just a continuation of a conversion that completley transforms a Catering unit into a useable working vehicle. Click HERE for more details or see http://www.atlanticmotorhomeservices.co.uk/ford-engine-conversion.php.
This is one of the H vans we are restoring, it is the only 6 wheel van we know of in the World :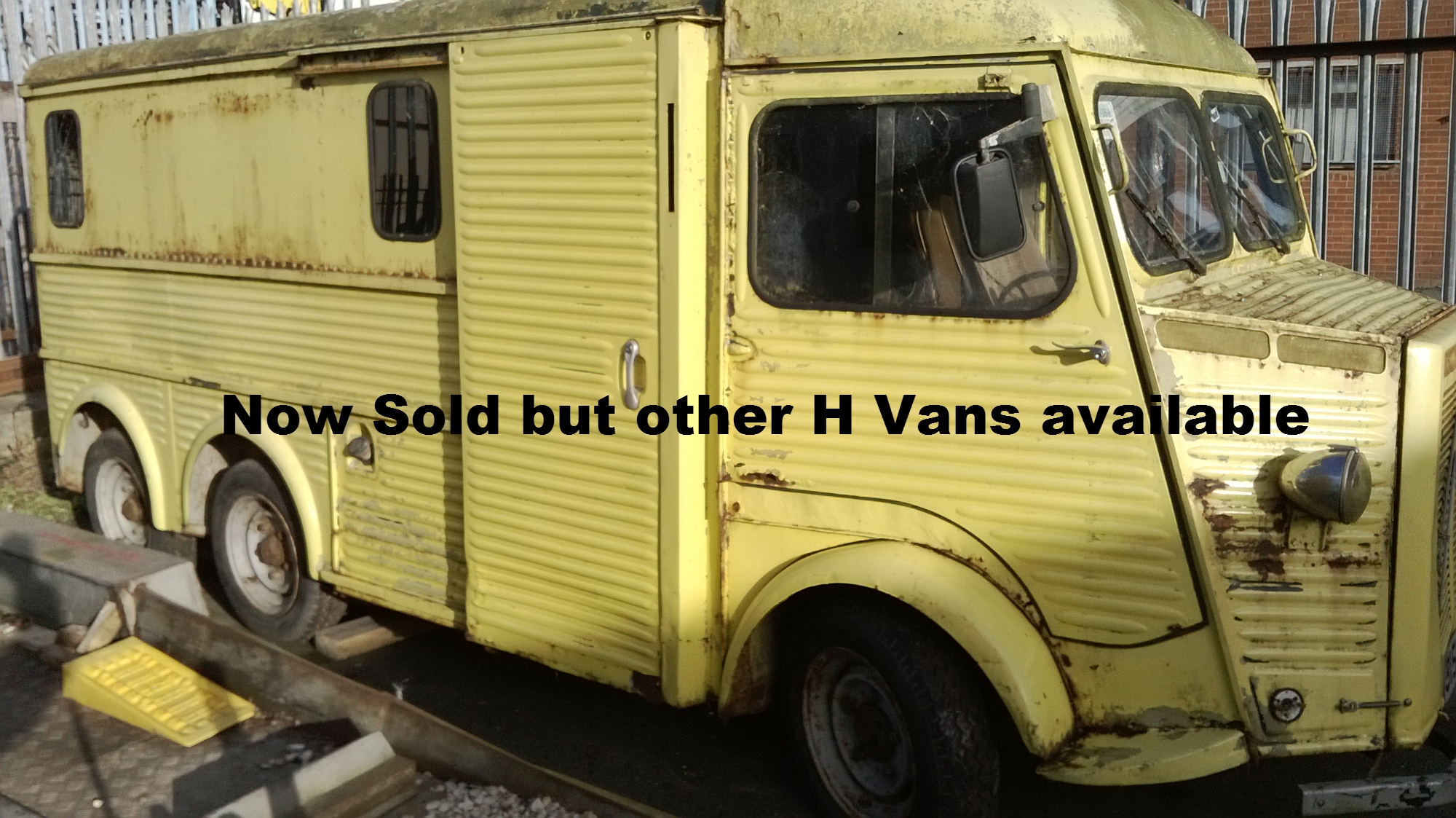 We have seen a twin rear axle Car Transporter, but not another 6 wheel van. This van is big inside, as part of the restoration we plan to raise the roof about 100mm and add another 800mm to the rear. This will not only make it one of the most cavernous vans around but the load capacity because of the extra Axle will be immense. A truly unique and eye catching vehicle. With that extra set of wheels it might have really strong Brakes to match the extra load lugging capability.
See HERE for more information on Catering Conversion and click HERE for more information on general Restoration and Camper Conversions
This website will still be dedicated to helping enthusiasts restore their own van and provide help and information on parts, suppliers and even rival restorers.
CITROEN TYPE H, H VAN, HY or HZ?
On introduction in 1949 the Citroen H van had a designation of Citroen Type H. This was soon replaced by the designation Type HY and HZ. Most of the surviving vehicles are Type HY's and this is by far the more common name associated with the vehicle. We make no apology, inaccurate as it may be, for referring to them as Citroen HY vans.
Please note that the information on this website is supplied in good faith. It is supplied as a starting point for the reader to do their own research to establish the contents accuracy. If you find any inaccuracies please communicate them to us so we can correct them.
To contact us either use the Contact Us page or the email address below. All feedback appreciated, adverts welcome.