Citroen H Van History
Contrary to what you might read elsewhere the Citroën H Van was not designed as a simple Van, it was the most advanced light commercial of it's day.
It was initially conceived around 1943 as a light weight, high capacity front wheel driven van that was full of innovation. At a time when commercial vehicles, and indeed most saloon cars of the day, were built using a separate, heavy, cart sprung chassis and a bolt on body, the Type H was the first mass produced Van to utilise monocoque construction where the body and chassis were designed as an integrated unit. Nothing else in the class was as light or so strong.
If this was the HY's only claim to fame it would have been more capable than most, yet this was only the start of the Citroen H vans onslaught on the Commercial market. It boasted an ultra low floor, 3 piece rear door, Front wheel drive, Torsion Bar suspension, Rack and Pinion steering, a very advanced braking system that was powerful but complex, 6' standing height and a side loading door. Also unusual for it's day was a large two litre engine, when other commercials of the era had much smaller less powerful engines. The VW T1 transporter of 1953 had an engine of just 1,200cc
It would be almost 40 years before front wheel drive, rack and pinion steering and side loading doors became the standard in the UK. We know of no other Commercial vehicle that took such a leap into the future. It is therefore not surprising it was in production from 1949 to 1981, with over 470,000 vehicles built in 3 different countries.
To continue reading more about the H vans History, click here HISTORY
For Technical information click here TECHNICAL
Who are we and why did we create this web site?
We are Atlantic Motor, Citroen H van restorers and Catering vehicle Builders, who specialise in making a 60year old H van reliable. We are H Van Engine rebuild specialists with have a stock of exchange rebuilt engines. We have also developed a Modern Ford Engine transplant that transforms the H van into an every day working vehicle, CLICK HERE for more details. We can arrange collection of your van from anywhere in the Country to have a new engine fitted at our H van Restoration premises and then deliver it back.
Atlantic HY have created this website to help all those with a H van to find out what they need to keep them running.
It documents Citroen H van History, Technical, Buyers Guide, Citroen H vans For Sale and Wanted, Suppliers that have H vans for sale, Spares suppliers, Restorers, Useful contacts, etc.
There is also a page dedicated to Karans documented restoration of her Camper which we hope will help inspire others to do the same, see Karan below with her newly acquired 'Little Red Fire Engine'. See Karans Camper.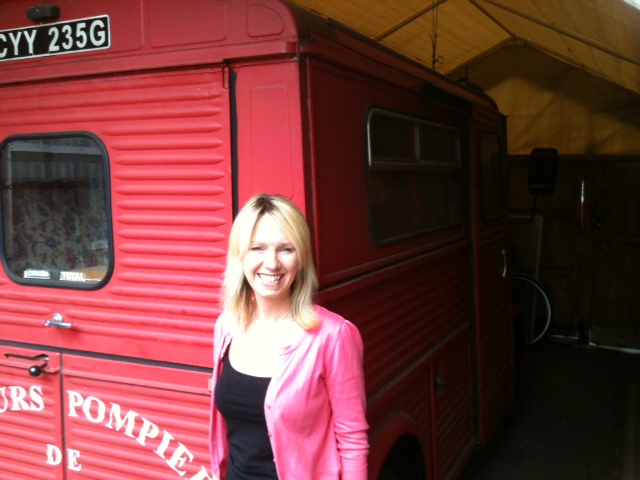 Karans Fire Engine Camper restoration has inspired the creation of a new website that contains Childrens stories of Fifi the French Fire Engine.
These stories document Fifi's adventures as a Fire Engine in Paris and in her new role helping her ex Fireman owner make a new living selling Coffee and Cakes in Chelsea. Great bedtime reading for up to 5 year olds, CLICK HERE or see the Fifi French Fire Engine page in the menu above
We are unique in the UK in keeping a stock of exchange Engines and Gearboxes, all guaranteed 12 months, demonstrating our skills are very much more capable than most.
EXCHANGE REBUILT HY VAN ENGINES AT £1790; REBUILT GEARBOXES FOR £1,490
Many restorations of Citroen H vans are for conversion to a Catering vehicle where reliability is key. The van will be expected work every day. While we love the Citroen H van, no 50 year old van is likely to be associated with the sentence "working every day, reliable, low cost vehicle". That's where we are Head and Shoulders above the rest. Our Catering conversions have a full mechanical rebuild with 12 month Warranty.
While we would cringe at a Vauxhall engine being used in a Classic Jaguar, Catering Conversions have Microwaves, Inverters, LED spot lights, Generators and Electronic Tills all totally out of step with period.
Our modern Ford Engine Transplant is just a continuation of a conversion that completley transforms a Catering unit into a useable working vehicle. Click HERE for more details or see http://www.atlanticmotorhomeservices.co.uk/ford-engine-conversion.php.
This is one of the H vans we are restoring, it is the only 6 wheel van we know of in the World :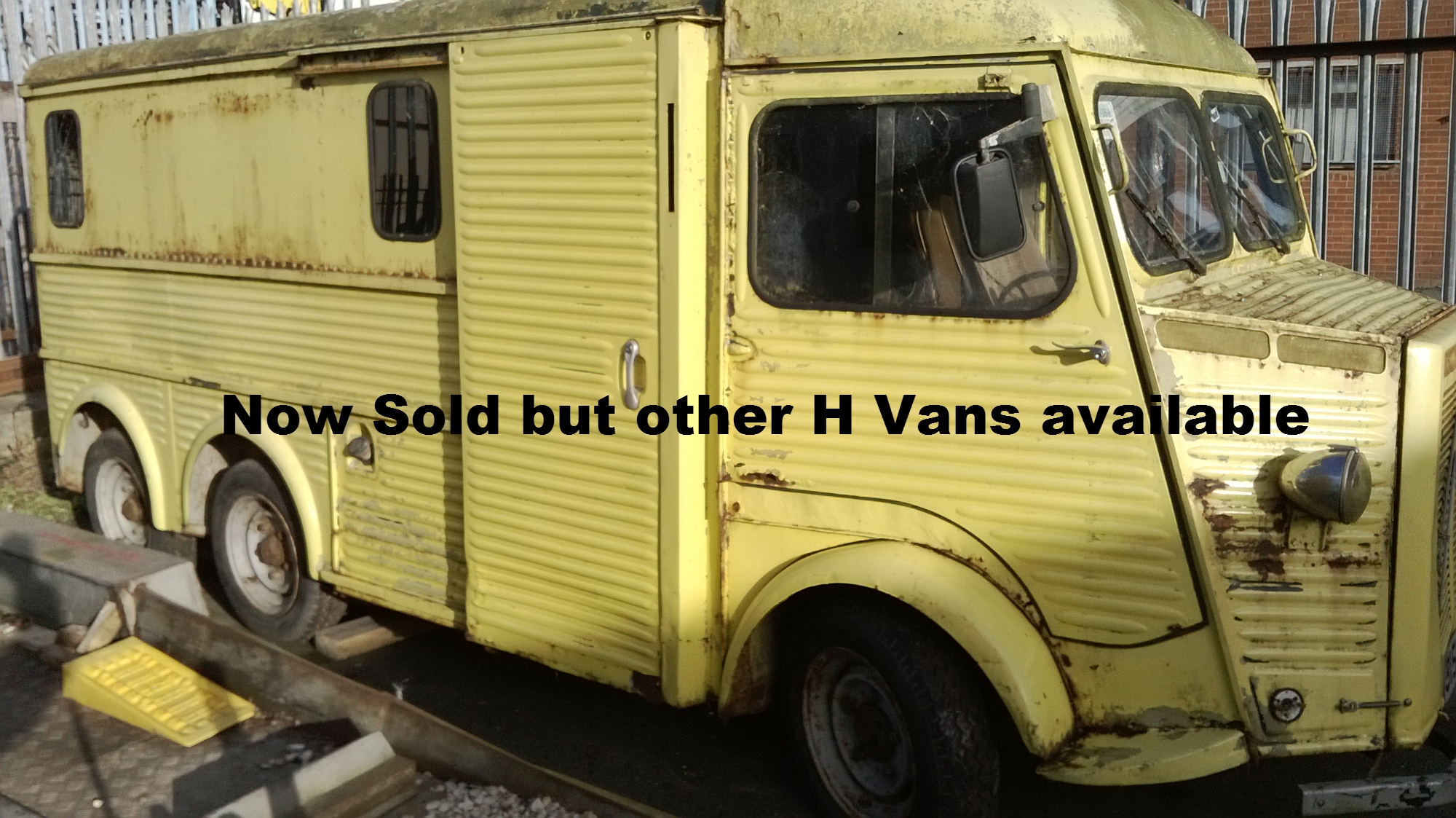 We have seen a twin rear axle Car Transporter, but not another 6 wheel van. This van is big inside, as part of the restoration we plan to raise the roof about 100mm and add another 800mm to the rear. This will not only make it one of the most cavernous vans around but the load capacity because of the extra Axle will be immense. A truly unique and eye catching vehicle. With that extra set of wheels it might have really strong Brakes to match the extra load lugging capability.
See HERE for more information on Catering Conversion and click HERE for more information on general Restoration and Camper Conversions
This website will still be dedicated to helping enthusiasts restore their own van and provide help and information on parts, suppliers and even rival restorers.
CITROEN TYPE H, H VAN, HY or HZ?
On introduction in 1949 the Citroen H van had a designation of Citroen Type H. This was soon replaced by the designation Type HY and HZ. Most of the surviving vehicles are Type HY's and this is by far the more common name associated with the vehicle. We make no apology, inaccurate as it may be, for referring to them as Citroen HY vans.
Please note that the information on this website is supplied in good faith. It is supplied as a starting point for the reader to do their own research to establish the contents accuracy. If you find any inaccuracies please communicate them to us so we can correct them.
To contact us either use the Contact Us page or the email address below. All feedback appreciated, adverts welcome.