THIS WEBSITE IS FOR SALE CONTACT ALLAN : 07803 072636
LATEST NEWS
We have restored a van for the Wheeler Dealer TV program plus supplied a rebuilt Gearbox and one of our Ford Transplants. See the van here.
The website had 54,934 visitors in the 12 months February 2015 to February 2016.
See the Technical page for poor quality NEW fuel pumps and none original Citroen Clutch Thrust Bearings d that are in circulation. Four vans fitted with the Fuel pumps (we think from India?) really struggled to reach any speed, one could not get over 30mph. If you have bought a new one recently and have fuel supply issues with the engine stuttering, or cutting out, then check the photos to see if you have a potentially faulty version.
Citroen H Van History
Contrary to what you might read elsewhere the Citroën H Van was not designed as a simple Van, it was the most advanced light commercial of it's day. While it may have the appearance of being a simple design, it is actually quite complex.
It was initially conceived around 1943 as a light weight, high capacity front wheel driven van that was full of innovation. At a time when commercial vehicles, and indeed most saloon cars of the day, were built using a separate, heavy, cart sprung chassis and a bolt on body, the Type H was different.
It was the first mass produced Van to utilise monocoque construction, where the body and chassis were designed as an integrated unit, and all wheel, independent suspension by Torsion bars. Nothing else in the class was as light or so strong. Even the famous VW Transporter that was launched 4 years later was heavier with half the load capacity and a separate chassis.
To continue reading more about the H vans History, click here HISTORY
For Technical information, like how to rebuild the Brakes, click here TECHNICAL
For Buyers Guide click here BUYERS GUIDE
Who are we and why did we create this web site?
We are a group of enthusiasts who have created this website to help all those with an H van to find out what they need to keep them running.
It documents Citroen H van History, Technical, Buyers Guide, Citroen H vans For Sale and Wanted, How to construct your own Catering Hatch, Suppliers that have H vans for sale, Spares suppliers, Restorers, Useful contacts, etc.
Our latest vehicle for Andronicas Coffee Suppliers.
This has every mechanical component rebuilt or replaced with new, from the Rear radius Arms , to the front suspension. The Gearbox has been compeletly stripped and rebuilt to as good as new, the engine is our now famous Ford Transplant with new Alternator, Starter, Carburettor, etc.
Even the Wiper mechanism and Motor has been removed and rebuilt. The only thing that is not new or rebuilt is the Speedo and instruments, as we can't get the parts. It all has a 12 month warranty, on everything, except the Clocks.
Everything carried out 100% in house, even the power steering with it's removable anti theft Steering Wheel.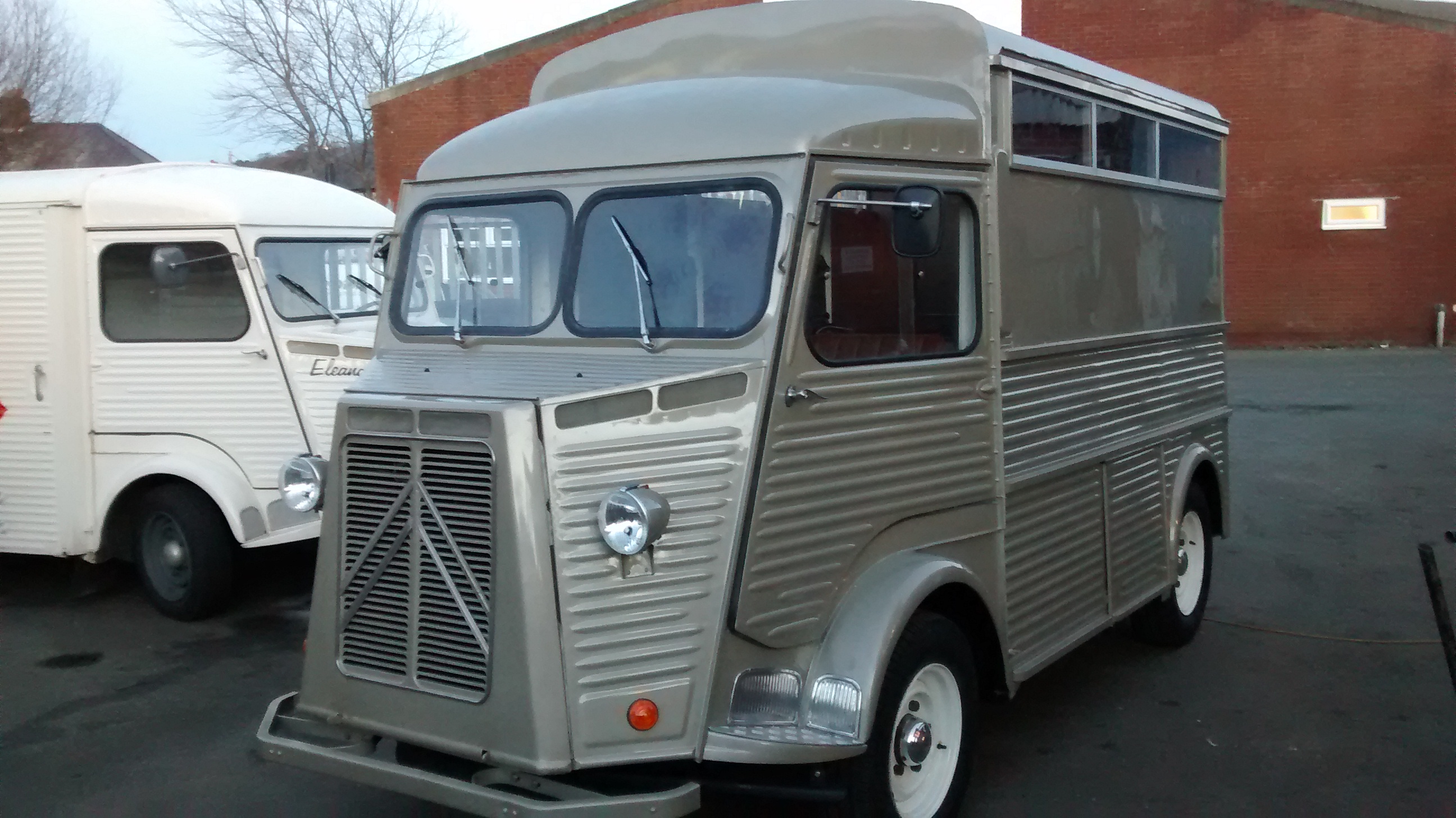 An earlier creation shipped out to a customer in May 2015 :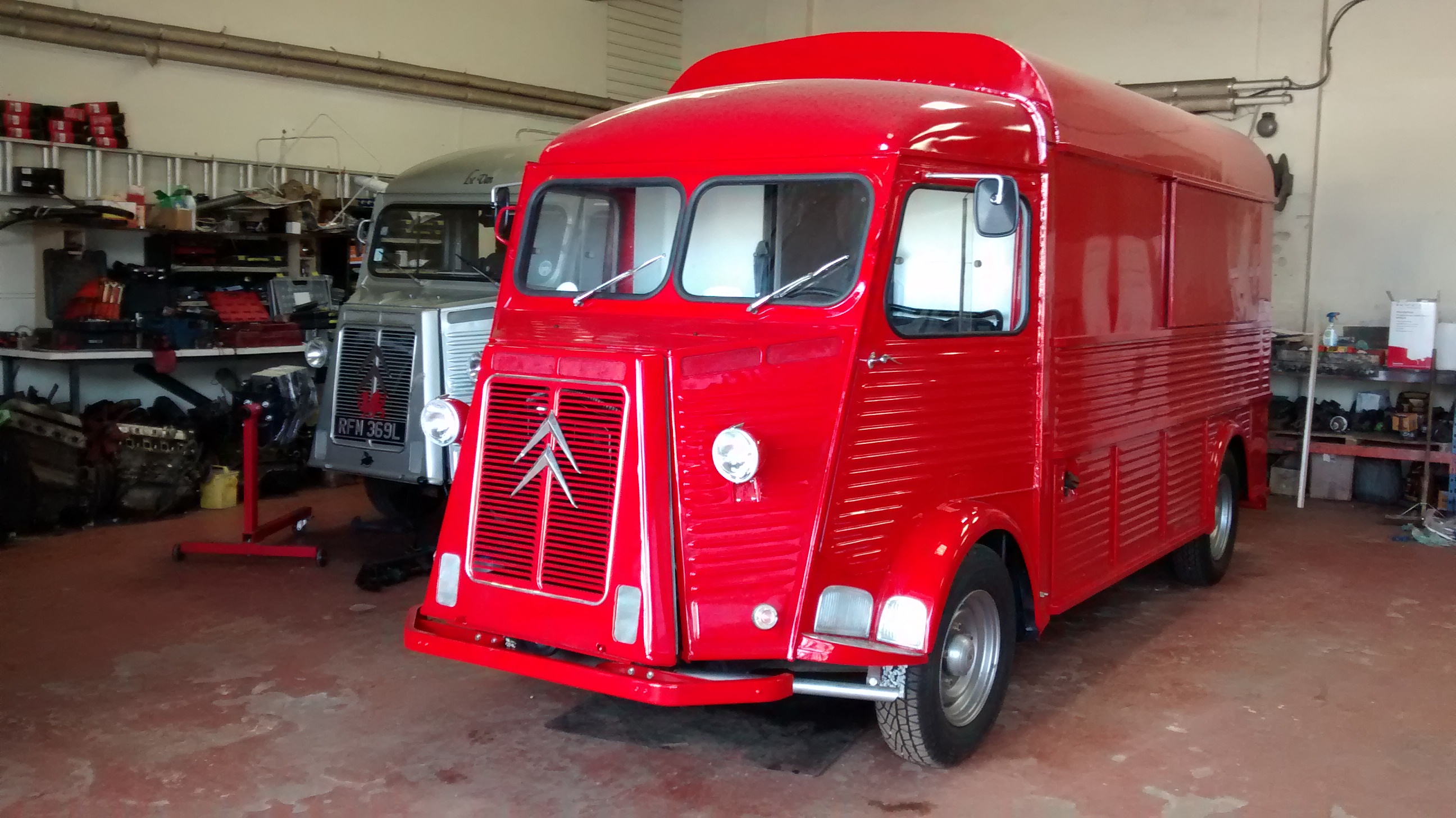 It arrived with us as a rusty, short wheel base van. We have completely rebuilt it with most parts either new or rebuilt to as good as new.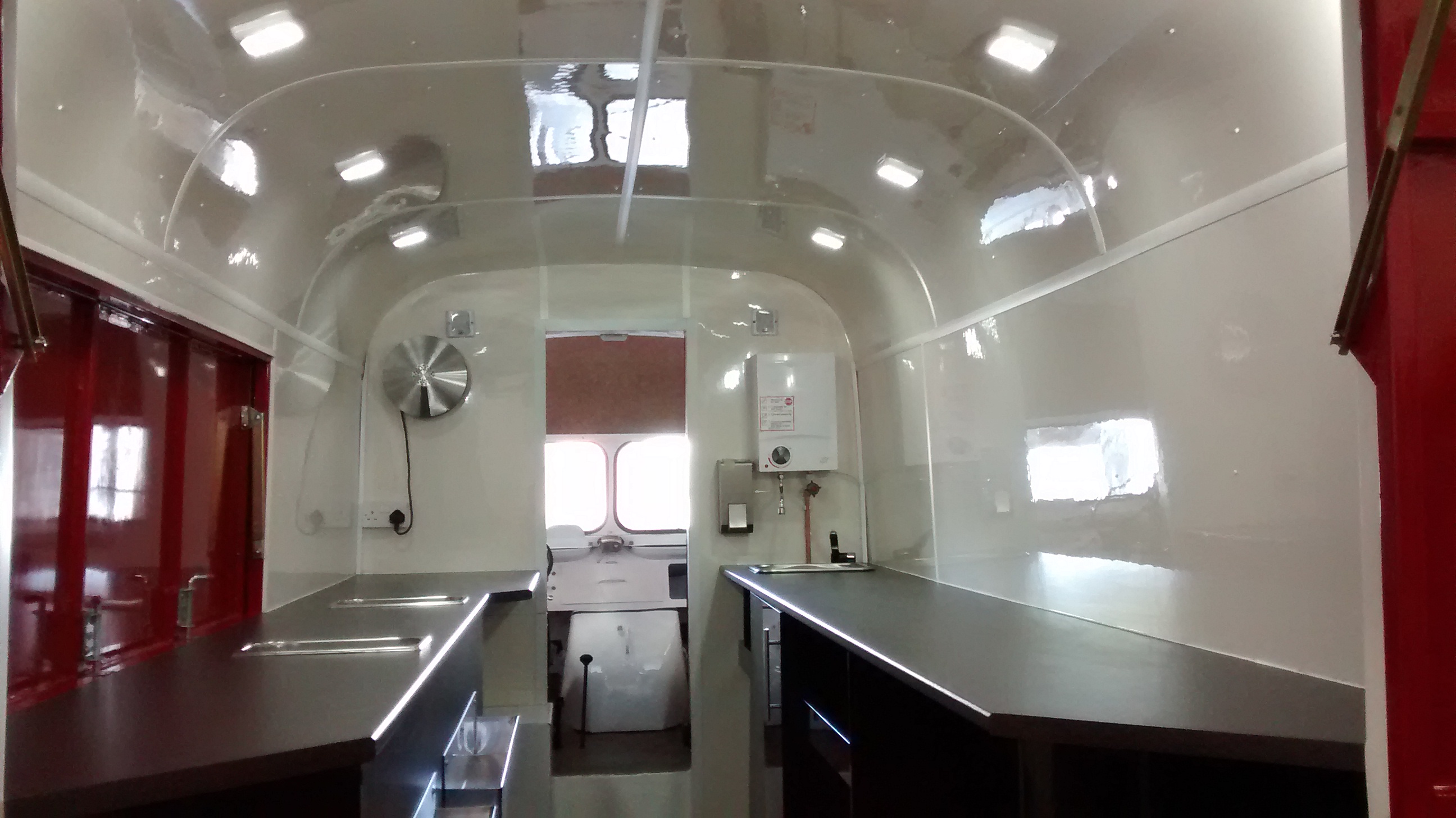 The Mechanics, Bodywork, Interior light weight Cupboards/Worktops, 240v/12v Electrics, Water system, Boiler, External purpose built Generator cupboard, Towbar, etc were all done in the workshop. No shipping to external companies.
Note the absence of heavy Stainless Steel? Click here for more information and pictures.
The Red van above, arrived with us like this :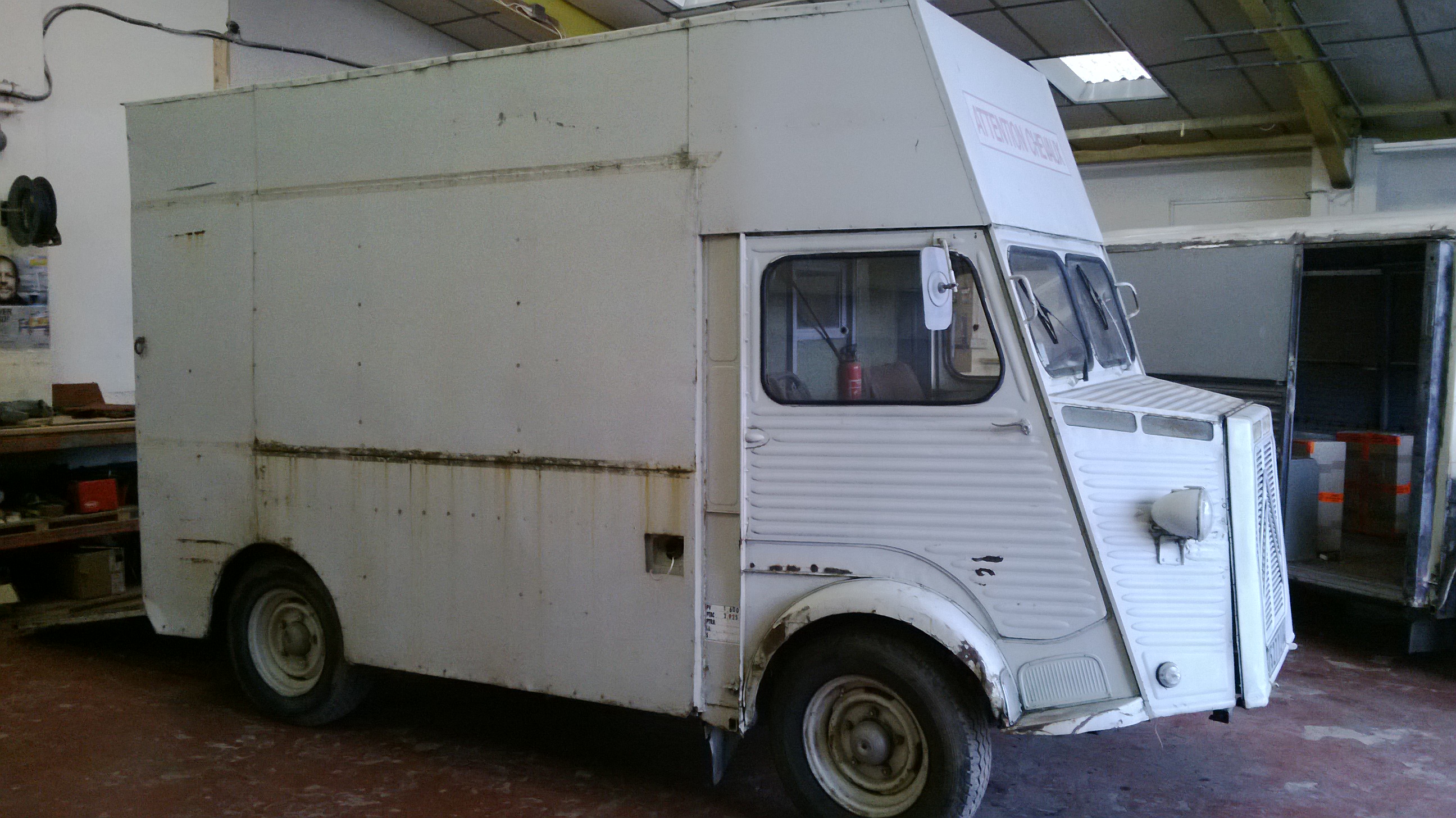 Yes that is correct the White Horse box above was turned into the Red van by chopping off every bit of body and Chassis from the Cab back and constructing it in new Steel. As we were building the entire rear section, it made sense to build it long and high. We started by fabricating new Chassis rails and building up from there to create a Hi-Top very long van, this :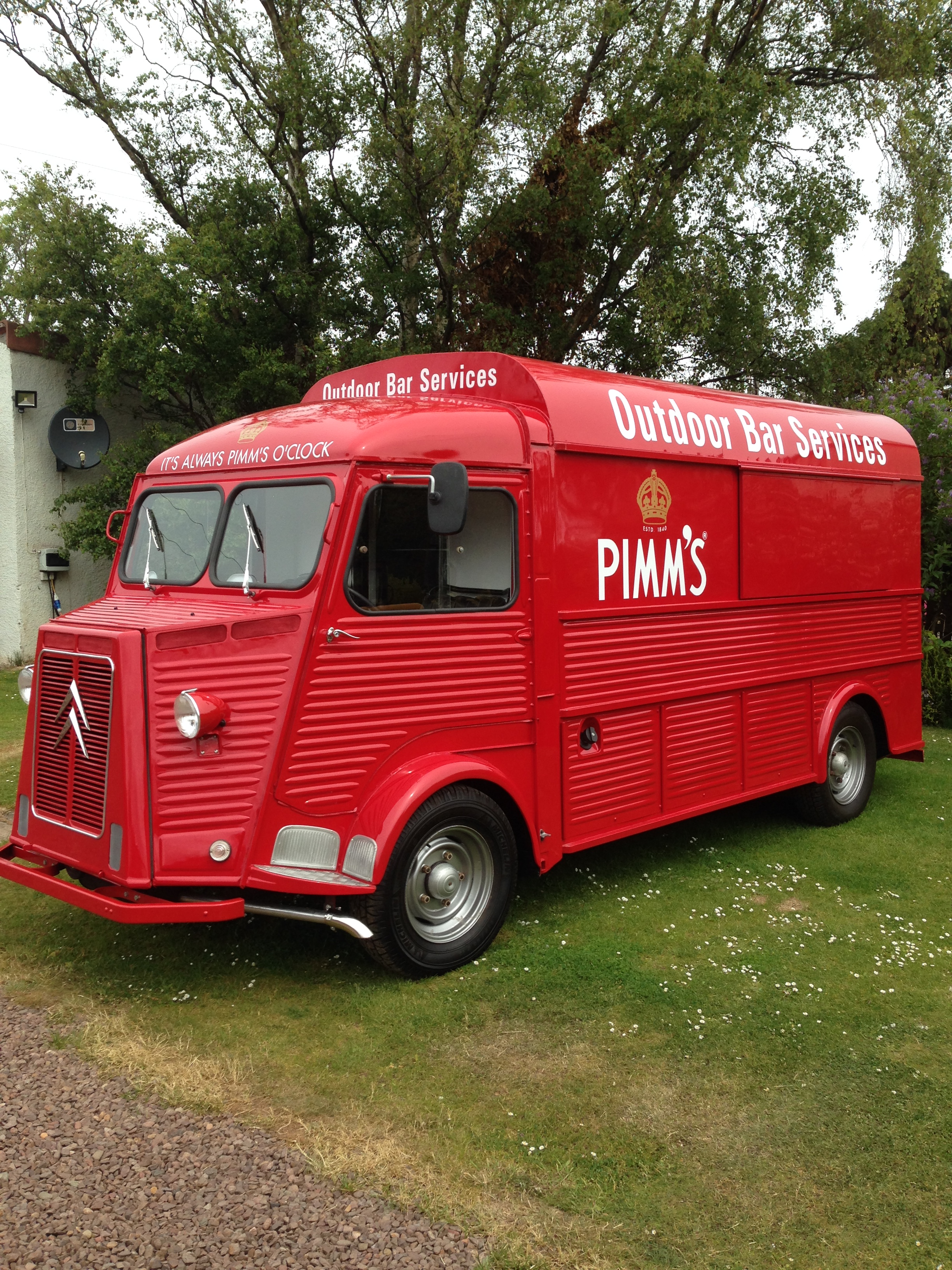 We don't know any other company that restores a van to such a high level of mechanical reliability and carries out Catering Conversions to the standard above. We do it so well, we guarantee it, all of it. 12 months Warranty.
We are unique in the UK in keeping a stock of Rebuilt exchange Engines, all guaranteed 12 months, rebuilt Steering Racks, rebuilt Driveshafts, rebuilt Starter Motors, etc. We also carry a stock of New spare parts from Clutch to Halogen Headlights.
We have also designed and built our own Power Steering conversion. This is not a bought in item, but made in Conwy. See photo below.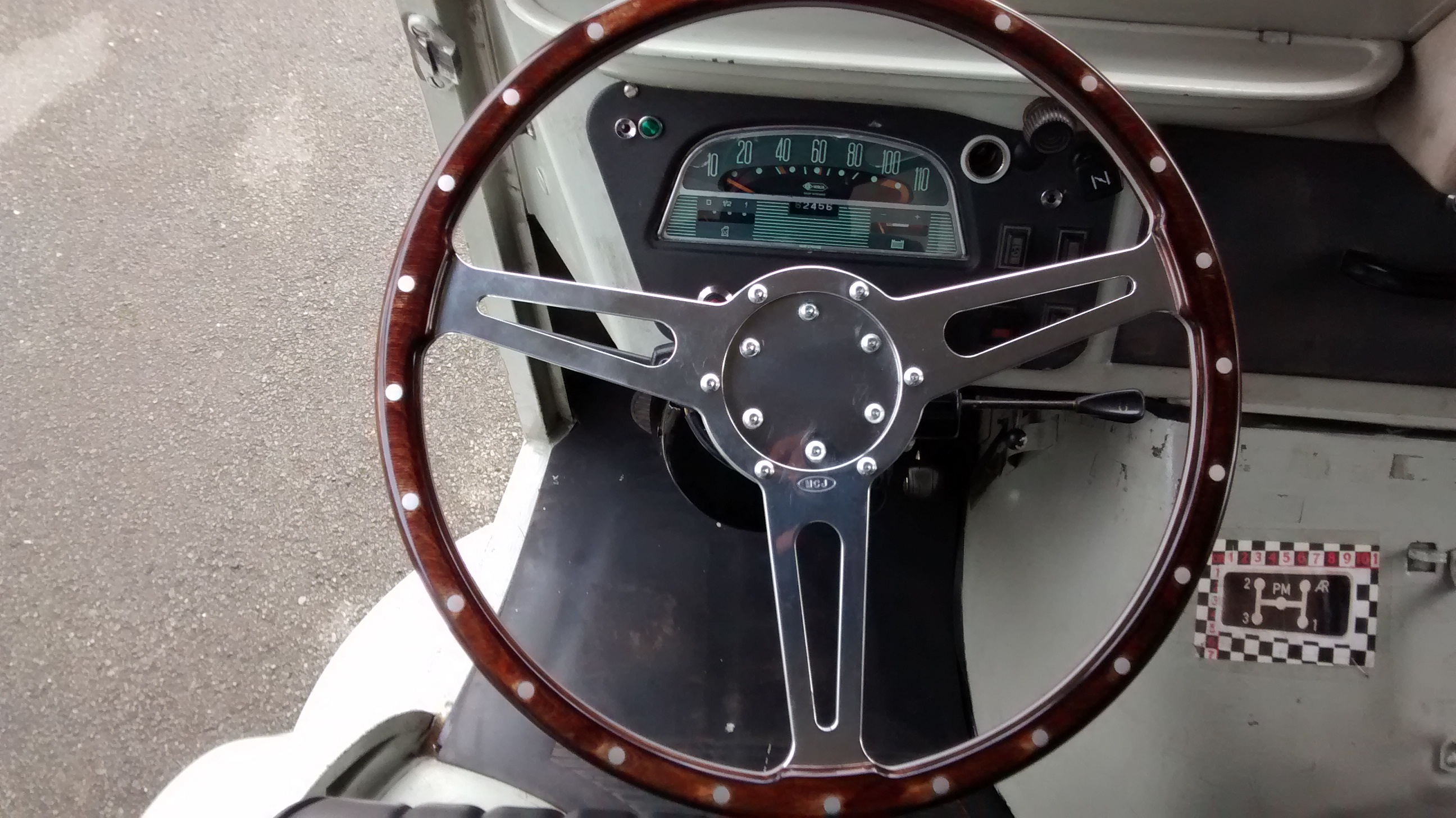 Many restorations of Citroen H vans are destined for conversion to a Catering vehicle where reliability is key and the value of the van is it's ability to earn money with the lowest possible expense. A Catering H van that spends months in the Garage generating huge Bills but earning nothing, is not worth a lot.
While we love the Citroen H van, no 50 year old van is likely to be associated with the sentence "working every day, reliable, low cost vehicle" when first dragged out of hibernation. That's where we are Head and Shoulders above the rest. Our Catering conversions have a full mechanical rebuild.
We don't mean an Engine service where they changed the Spark Plugs and Oil, we mean a rebuilt engine that has been completely stripped. All parts examined and replaced where worn. The Crankshaft machined and fitted with new Main and Big end Bearings. New Cylinder liners and High compression Pistons fitted. The Cylinder Head rebuilt, new Timing Chain fitted, etc and then the whole thing reassembled with new Gaskets.
While we would cringe at a Vauxhall engine being used in a Classic Jaguar, Catering Conversions have Microwaves, Inverters, LED spot lights, Generators and Electronic Tills, etc all totally out of step with the period.
Our modern Ford Engine Transplant is just a continuation of a conversion that completley transforms a Catering unit into a useable working vehicle.
This website is dedicated to helping enthusiasts restore their own van and provide help and information on parts, suppliers and even rival restorers, like our new page on how to construct your own Catering Hatch.
CITROEN TYPE H, H VAN, HY or HZ?
On introduction in 1949 the Citroen H van had a designation of Citroen Type H. This was soon replaced by the designation Type HY and HZ. Most of the surviving vehicles are Type HY's and this is by far the more common name associated with the vehicle. We make no apology for referring to them as Citroen HY vans.
To contact us either use the Contact Us page